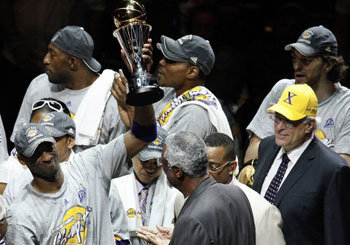 The Los Angeles Lakers yesterday gave their coach Phil Jackson his record 10th league title, beating the Orlando Magic, 99-86, to wrap up the NBA Finals, 4-1.
Los Angeles won its 15th league crown to trail only the Boston Celtics with 17, and its first since 2002.
Kobe Bryant also earned his first Most Valuable Player award for the NBA Finals, but, more importantly, got a monkey off his back by winning a title without former teammate Shaquille O'Neal.
Making his league debut in 1996, Bryant won his first scoring title in the 2005-06 season by averaging 35.4 points per game and his second the year after.
The Lakers won three straight titles from 1999 through 2002, but O'Neal was named Finals MVP all three years. Criticism then began building that Bryant was a selfish player who could not win without O'Neal.
After the 2003-04 season, the center was traded to the Miami Heat, allowing Bryant to finally take center stage for the Lakers.
Bryant earned his first regular-season MVP last season, and played on the U.S. national team that won the gold medal at last year's Beijing Olympics.
The star guard averaged 32.4 points in this year's Finals. "I'm happy to have proven wrong the argument that the Lakers cannot win the championship without O'Neal," he said.
Coach Jackson won six titles with Michael Jordan and the Chicago Bulls and four with the Lakers, and surpassed legendary Celtics coach Red Auerbach for most league titles by a coach.
In the 1995-96 season, Jackson led the Bulls to a league-record 72 wins against just 10 losses in the regular season. He is also the fastest coach to reach 900 career wins, needing just 1,264 games to do so.
Jackson left the Lakers after the 2003-04 season following the team's loss to the Detroit Pistons in the NBA Finals. In a book he wrote about the Lakers thereafter, he blasted Bryant as being selfish and uncoachable.
Jackson, however, returned to the team in the 2005-06 season and began rebuilding the team.
After yesterday's title-clinching victory, Jackson applauded Bryant for helping to unite and inspire confidence in his teammates.
why@donga.com