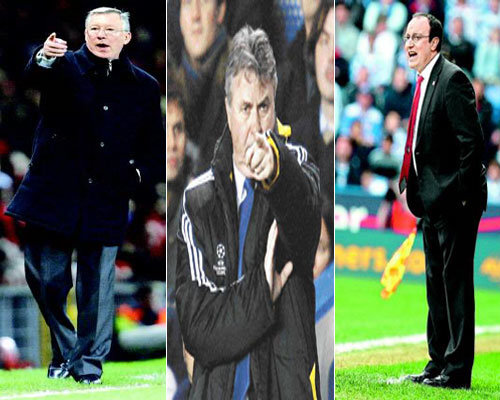 "(Sir Alex) Ferguson is shivering in fear. We'll chase him to the last moment," Liverpool coach Rafael Benitez said.
Manchester United coach Ferguson said, "Benitez talks too much about other teams. I didn't know I was that important.
Chelsea coach Guus Hiddink said, "Liverpool's win spawned tension in the (English Premier League). Let's see how United responds throughout the rest of the season."
Fierce competition is unfolding toward the end of the Premiership season. The coaches of the league's top three teams, armed with extraordinary cleverness, strategy and insight, are engaged in an intense war of nerves.
The driving force behind the three is their strong charisma.
Ferguson's charisma is like fire. Former United players David Beckham and Ruud Van Nistelrooy challenged the coach's authority only to lose. Ferguson even threw athletic shoes at Beckham.
In contrast, Hiddink employs a softer approach. When he headed the Korean national team, a team source said, "Coach Hiddink's soft yet keen charisma made players act like rookies."
KBS soccer commentator Han Joon-hee said, "Chelsea has taken off recently due to Hiddink's silent charisma, which allows him to instantly reduce star players into grains of sand."
Benitez somewhat lags behind the other two coaches in charisma, but things have changed this season. The once-reticent coach has grown bolder in unleashing verbal attacks on the tough-talking Ferguson first.
The three coaches all pursue a strategy in which their teams try to control the midfield with a regular tempo and preoccupation of space.
MBC soccer commentator Seo Hyeong-wook said, "Ferguson uses a somewhat abnormal approach, whereas Hiddink and Benitez prefer more stable and direct strategies."
The three coaches are similar, however, in their psychological war strategy in games using personnel and operational tactics in tune with changing situations.
Ferguson said in a recent interview, "My biggest rival is Arsene Wenger of Arsenal."
Certain analysts say his comments are also indicative of a clever psychological war, as he made them at a time when Hiddink and Benitez stepped up their offensives against Ferguson.
niceshin@donga.com