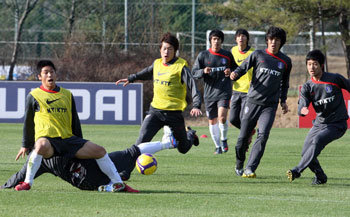 "We know the South Korean soccer team is strong. We also know Park Ji-sung. But it'll be difficult for South Korea to defeat North Korea."
This is what a North Korean soccer official predicted last month in Kunming, China, for the upcoming World Cup qualifier between South and North Korea Wednesday. He said, "South Korea will have hard time due to our stronger defense."
South Korea will hold the fifth Group B match for the Asian qualifiers of next year's World Cup in South Africa against North Korea at Seoul World Cup Stadium.
The South is first in the group with two wins and two draws (eight points), but the North is behind just a point.
South Korea Coach Huh Jung-moo will have overseas-based players including Park Ji-sung (Manchester United) for the game. He said "We will win the match."
○ `Draw jinx'
Huh has pledged to win but the South has played the North to four straight draws since the East Asian Games in February last year. The North is coming off a big upset of Asian power Saudi Arabia, 1-0, in a qualifier.
North Korea's strength lies in its tight defense, which mobilizes up to eight players. The South has scored just twice in the four draws against the North. The North's trio of speedy and surgical strikers, namely Jong Tae Se, Hong Yong Jo and Mun In Guk, is a big threat to the South, whose midfield is relatively weak.
○ Iraq friendly
South Korea will host a friendly match versus Iraq at Suwon World Cup Stadium at 7 p.m. tonight.
Iraq, which uses a strategy of defending then unleashing a counterattack, is expected to be a good test for South Korea ahead of Wednesday's qualifier versus North Korea.
Iraqi players are highly skilled individually and armed with a strong spirit, as evidenced by their Asian Cup triumph last year despite the difficult situation facing their team.
South Korea plans to penetrate the North Korean defense through diverse tactics, including side attacks or multiple counterattacks. Coach Huh plans to field Kang Min-soo, Lee Jung-soo, Hwang Jae-won, and Kim Hyung-il to decide on the optimum combination for the midfield.
Kwak Tae-hui and Cho Yong-hyung are out with injuries.
"I plan to give all players the opportunity to play in the Iraq match," Huh said. "I'll keep an eye on newly recruited players."
niceshin@donga.com