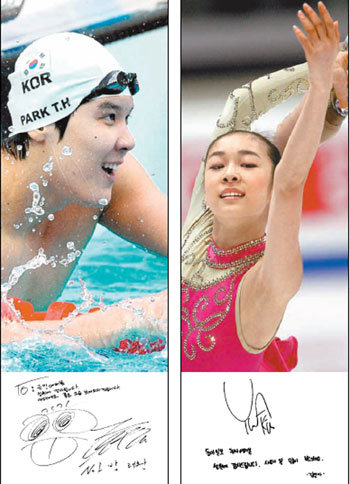 Swimming star Park Tae-hwan in August won the men's 400-meter freestyle at the Beijing Olympics.
By finishing with a time of 3:41.86, he brought home Korea's first Olympic gold in swimming. Many foreign media described Park's victory as an amazing surprise to the world.
He also won the silver in the men's 200-meter freestyle.
On Dec. 13, figure skating sensation Kim Yu-na was edged out by archrival Mao Asada at the Grand Prix of Figure Skating finals in the northern Seoul suburb of Goyang.
Though unable to achieve her dream of winning the competition for three consecutive years, she won the bronze for the second straight year at the World Championships in March, and set a record of winning five straight Grand Prix events.
Kim never let her fans down even when she fell. She sprang up immediately with a radiant smile and resumed her performance in no time. No wonder spectators fell in love with the resilient 17-year-old.
Her popularity won her many contracts with advertisers, and products with her endorsement such as bread created a sensation among consumers. Furthermore, her female fans are eager to learn how she does her make-up.
Many fans are looking forward to what messages of hope Park and Kim have in store for 2009, the year of the cow in the Chinese zodiac.
yjongk@donga.com kimsk@donga.com