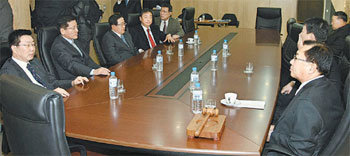 The national soccer team's coaching staff had conflicting views over choosing the captain ahead of the home World Cup qualifier against the United Arab Emirates Oct. 15. Head coach Huh Jung-moo wanted defender Lee Yong-pyo (Borussia Dortmund) as captain while others chose Park Ji-sung (Manchester United), saying Park is more active when given responsibility. In the end, Huh conceded.
Selecting Park as captain proved a big success. He disciplined younger players and Park himself played much harder in the 4-1 win. In Saudi Arabia Nov. 19, Park as captain led the team to a 2-0 victory in its last World Cup qualifier. The win broke a 19-year jinx and got the national squad on track to qualifying for its seventh consecutive World Cup.
All this was because of a change in Huh's attitude. The coach had long been known for being stubborn in selecting players, training and strategies.
What prompted a change in Huh's attitude when a 1-1 draw against North Korea in Shanghai Sept. 10. He began to listen to others and accepted the coaching staff's views in selecting players.
He also talked more to players.
Guus Hiddink led the national team to fourth place in the 2002 World Cup, and Sergio Ricardo de Pavia Farias won the K-league last year and the FA Cup this year with the Pohang Steelers. Cha Bum-kun steered the Suwon Samsung Bluewings to this year's league and pre-season Hauzen Cup titles.
Huh is in his third stint as coach, and what he will do with just one World Cup qualifier remaining remains to be seen.
yjongk@donga.com