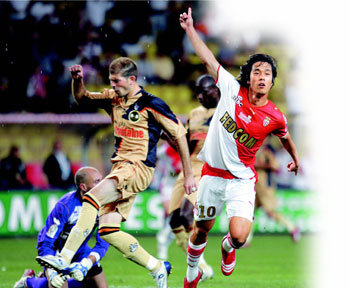 One game does not make a player, but soccer forward Park Chu-young's debut in the French league is a promising start.
Park, 23, who transferred from FC Seoul of Korea to AS Monaco of France early this month, scored a goal and added an assist Saturday in his team's 2-1 win over FC Lorient.
In the 26th minute, he dribbled the ball off a pass from teammate Jean-Jacques Gosso near the central line and beat the offside trap to score. Park in the second half assisted Frederic Nimani's goal in the 71st minute.
Park's outstanding performance was a fresh start for him considering the lofty expectations he attracted in his early years. Once considered Korea's next big star, he struggled this year for FC Seoul and the national Olympic team.
Fans ridiculed him for his poor performance in the Olympics. Though he scored a goal in a 1-1 draw against Cameroon in a group game, he failed to score in a 3-0 loss to Italy and 1-0 win over Honduras.
His goal in his French league debut, however, might be enough for him to regain his confidence.
Park has also received positive responses in France. AS Monaco Coach Ricardo Gomez said, "Park Chu-young was the best athlete. He was completely different technically."
Maxifoot, a French soccer Web site (www.maxifoot.fr), named Park "today's player."
Park said he eventually hopes to advance to the English Premier League by getting European soccer experience in France. "I am happy to have scored a goal in my debut but it's only one game. I will move on and prepare more for the next match. My final goal is something else," he said.
yjongk@donga.com