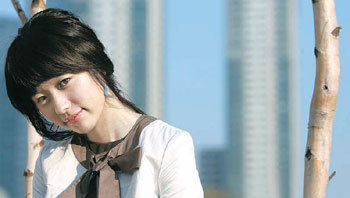 The word 'refreshing' best describes the first impression given by TV drama star, Han Hyo-joo. At a time when plastic surgery is all the rage among Korean actresses, it was truly delightful to meet the 20-year-old actress on a beautiful Wednesday afternoon. Her comforting smile was in stark contrast to the artificial smiles on the well-carved faces of some Korean actresses, whose appearances have been artfully crafted by a surgeon's knife.
She currently plays the heroine (Ji-soo) of the KBS TV1's daily series 'Like Land and Sky'. Viewers are reminded of what true love is by watching two families of vastly different backgrounds on the set – one with its share of problems but strong loving bonds, and the other, affluent but lacking trust among family members. The series hit a 30-percent viewer rating on Monday, according to TNS Media Korea, a rating agency.
"I was more popular among the younger viewers before this drama was aired. Now, things have changed. When old people, like my grandmother, see me in public places like a park, they recognize me. I am also glad that my drama is a source of entertainment for my grandmother who lives by herself."
Last year, Han entered the limelight when Yoon Seok-ho, producer of the Asian-wide hit drama 'Winter Sonata', selected her to play the heroine in 'Spring Waltz'. Despite much fanfare, the drama failed to attract many viewers.
"After 'Spring Waltz' was over, I was afraid of acting again. I knew nothing about acting when I was shooting the drama. It was the first time I had acted in a series and my acting wasn't good enough, falling far short of my expectations. I kept on blaming myself, and in the end, I was too discouraged to start again."
Han later decided to review her strengths and weaknesses in order to be more prepared when she took to the screen once again. Rejecting all other offers from directors and producers, she chose the starring role in the film 'Ad-Lib Night' – a low-budget independent move directed by Lee Yoon-ki.
"The movie was about 'Bo-gyeong', a twenty-something-year-old who tried to rediscover herself. I realized that she and I had a lot in common, so I started to reflect on my life through her perspective and that is what created the magic. I became less conscious of the camera because I was acting as myself."
Her performance in 'Like Land and Sky' also highlights her natural way of acting. "The boundary between Ji-soo and I becomes more blurred as the series continues. Before the drama, I was always hesitant, not able to decide at the right moment. However, acting as the confident and determined Ji-soo has helped me to overcome my indecisiveness."
In the drama, Ji-soo falls in love with her long time friend Moo-yeong, the male lead, played by actor Park Hae-jin. "I believe friendship can develop into love. But it would take a while to actually love someone who has been your friend for a very long time. I don't have a boyfriend at the moment, but if I think of my life from Ji-soo's perspective, I too would probably torture myself with endless thoughts," said Han about Ji-soo's complicated feelings before finally confessing her love for Moo-yeong.
Han is seeking to debut in Japan with the 'Spring Waltz', airing in Japan at the beginning of April. The ambitious actress, full of potential, told Dong-A, "I want to try out for more extreme roles. I hope viewers see me as an actress who is true to the role she is playing, not as just another actress with good acting skills."
zozo@donga.com