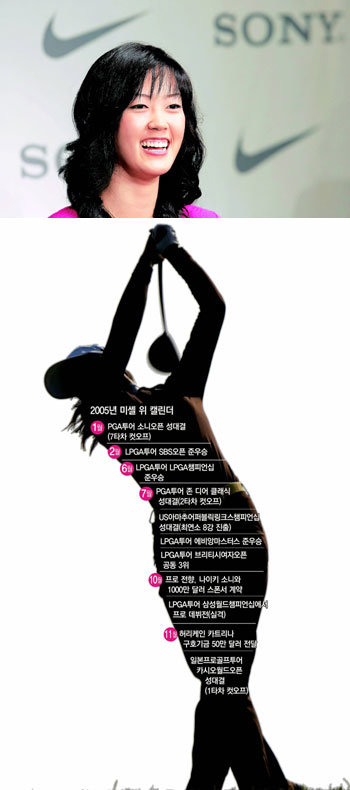 She used to face-off against pros as an amateur.
Competing in eight of LPGA tour competitions, she took second place three times, including one second-place finish in the LPGA championship.
In December, she turned pro and signed a sponsorship contracts worth 10 million dollars from Sony and Nike.
With the whole world watching, she was taught a bitter lesson when she made a minor mistake and got disqualified in Samsung World Championship of LPGA tour; her debut as a pro.
Entering the glitter of the public spotlight this season, Michelle Wie was picked by Fox Sports as the fifth most influential woman in sports.
It was an eventful year for her, and Michelle wanted to remember only good things.
"Many things happened, and I've learned much. But I don't like to talk about sad things," she said.
All the while, she was proud to have become the youngest player to make the final eight in the prestigious US amateur Public Links Championship in July.
"Match play competition is way more fun than other games," she said. For her age, she is curiously fond of competitions filled with tension.
An 11th grader in Hawaii's Punahu School, Michelle goes to classes from 7:30 a.m. to 2:30 p.m., and practices golf from 3:30 p.m. until 6:00 p.m..
She also builds her stamina by lifting weights four times a week at a health club.
Her father, Wie Byeong-uk, a professor at University of Hawaii, is hopeful. "Putting is all experience; Michelle will only get better," he said.
Early this month, Michelle finished a photo shoot for Nike's next season calendar and met with Nike's design team.
"The designers brought a ton of clothes. I'm supposed to plan what I will be wearing in 2007. Changing into all those outfits was no picnic."
In her busy schedule and routines, she finds time to entertain her addiction: Korean soap operas.
"My favorite is 'This cursed love'. Rain looks so cool in it. I never miss 'I like Sunday', another of my favorite shows."
The teenager who's into fashion and TV stars has set two goals for next year's season: winning LPGA tour and making the cut in a PGA tour event.
"I really want to win in LPGA tour. All the second places I've won left something to be desired. I also want another shot at making the cut in a PGA tour event."
Next year, Wie will compete in eight LPGA tour events. She will start the season fresh on January 10 in Honolulu, Hawaii, with her third appearance in the PGA's Sony Open.
Michelle's dad explained that her entry schedule will become certain around mid January.
"I want to visit Korea if chance permits. I'll play as best as I can for my fans in Korea. So keep an eye out for me," Michelle said.
Michelle Wie will re-enter the world of pro golf at the start of New Year, and her voice sounds as crisp as it can be.
Jong-Seok Kim kjs0123@donga.com