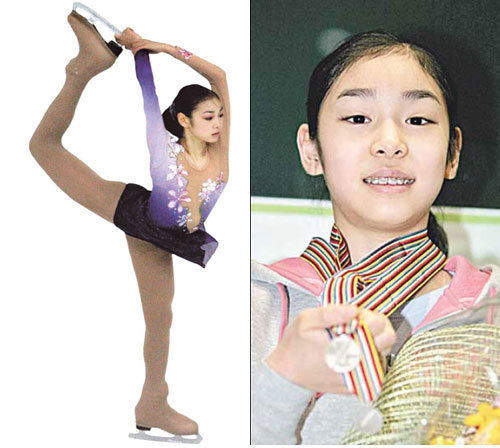 She has grown taller, and so have her skills and confidence.
Teen figure skating sensation Kim Yeon-ah (15, Dojang Middle School) who won the Junior World Grand Prix Final, came home on Tuesday. Wearing slacks and a blue track suit, Kim came out of the arrivals gate at Incheon International Airport. Her facial expression was not the sulky, stoic one we saw at the end of last year's competition when she took the second place. This time, she was glowing with joy throughout the interview.
She was 156cm tall and weighted 38kg one year ago. Now she is 161cm, and weighs 43kg. "I was making a lot of mistakes because I didn't fully adjust to the new skates I got two weeks ago. But fortunately, those mistakes disappeared during the morning practice on the day of the competition. I've won with the top score. It feels really good.", said Kim.
Yi Ji-hee (43), an international figure skating referee, delivered her account of the winning moment, saying "The attention of the press and the spotlight was all on Kim Yeon-ah. She has let her name be known."
The remaining goal for Kim is to win in World Junior Figure Skating Championships that will be held in Slovenia next March. Asada Mao, the Japanese figure skater that won last year's Grand Prix Final, defeating Kim by a large margin, will also compete in the event.
Mao can execute triple axels (three and a half revolutions), and has competed in senior grand prix competitions this season, winning first and second place honors.
Kim's coach, Kim Sae-yol, says "Yeon-ah did not have to use a triple axel to approach Mao's winning score in this competition."
Kim said, "This competition gave me the confidence that I can beat Mao." Mao scored a total of 179.12 points to win the last year's competition. Kim won this year's competition with 174.12 points.
Sung-Kyu Kim kimsk@donga.com