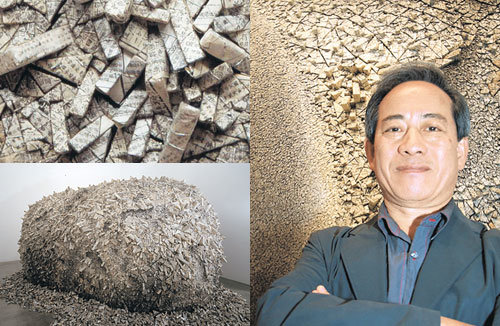 There are artists in the Korean art market who are under- or over-estimated due to their academic ties or human networks. Disillusioned by this, some art dealers turned their eyes to the international market after the mid-1990s, and they were right to do so. In a market where art works are traded regardless of nationality and name, star artists of Korea began to emerge, and Chun Kwang-young (61) is a major case in point.
With his Aggregation series in which he wrapped triangular styrofoam pieces with traditional Korean paper and stuck them on a flat wooden canvas like puzzle pieces and dyed them with traditional ink, he was a major hit in prominent art fairs in Basle, Switzerland and Chicago, U.S.A. Chun, whose work is collected by world-renowned multinational companies and art galleries, is scheduled to hold a large exhibition at "Annely Juda Gallery," one of the world's top 10 galleries, in December.
His private exhibition, held at the International Gallery (02-735-8449) at Sogyeok-dong in Jongno-gu, Seoul in three years time from November 15 to December 18, is an opportunity to see some of his new work which are more famous abroad than in Korea. Chun is a typical "late bloomer," only gaining recognition in his 50s. He has lived through a long period of perseverance as late bloomers do. He looked back on his life as one "that was filled with rejections."
The rejection of his father, who cut ties with a son who did not take on the family business (a brick factory), the rejection of the American art world, which he could not enter with only youthful aspiration, and the cold rejection of the Korean art community, which did not welcome the artist who returned to Korea after a long vacuum or embrace his experimental spirit, were more difficult to take because he had followed the mainstream academic line for artists, graduating from the art college of Hongik University and Philadelphia Art School. He even experienced poverty to the extent of rummaging through garbage cans.
When he was doing physical labor as an illegal immigrant in the United States, he wrote, "The floor was covered with water. Paintings I had done all night were floating around. My eyes were filled with hatred, and my tight fists were shaking. I cried out while hitting the dirty water with my hands. God, please leave me alone. If you are not going to help me, at least don't hinder me and just let me be!"
Life didn't get better even after he returned to Korea. When the private art institute he opened to make a living started to take off and he finally had a hold of his life, skepticism over his work overwhelmed him. Chun, who had drawn abstracts under the theme of "light," had to struggle with an exhaustion of imagination. He aimlessly wandered around the country with his wife. Gradually he came face-to-face with the concept of identity, a recognition of what is mine and ours.
"I realized that I had concentrated on something that was not mine, and the objects used by our ancestors took on a new meaning."
That is how his unique works using traditional Korean paper were born.
"I was inspired by the medicine wraps that were hanging from the ceiling of my great-uncle's traditional medicine clinic in Gangwon Province while visiting my hometown. Wrapping the sliced styrofoam with the paper represents Korea's unique culture of using a wrapping cloth. The West's box culture is one of a quantified, fixed form, but Korea's wrapping cloth culture symbolizes one that warmly wraps around the hearts of the people. "
His new works exceed simple aggregation and takes on a cubic form. The cubism expressed by the intensity of the ink's color and the size of the styrofoam pieces sometimes seems like a footprint on the paddy field or a print of a meteorite. Most are masterpieces over 1000 ho in size, and as he wraps, ties, and sticks about 30,000 styrofoam pieces in a work, he has worked on some over 100,000 times. His work reflects the warmth and power stemming from a person's laborious devotion.
Mun-Myung Huh angelhuh@donga.com