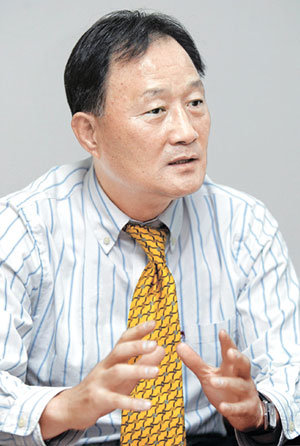 "I am confident. How hard can the job be?" said Kim Ho-gon (54), who was recently appointed managing director of Korean Football Association (KFA).
But he is so swamped with work that he no longer has time for regular gym workouts. The KFA official is dealing with the aftermath of a parliamentary inspection, incorporating the organization, and preparing the national team for 2006 World Cup Germany preliminary matches.
"The football world must unite"-
Due to the nationwide popularity of the game, even football administration attracts the interests of many football fans. Kim's name is mentioned as often as soccer stars and coaches. No wonder Kim calls his managing director's position "a smelting furnace."
In the world of football, KFA critics are never in short supply. When Kim's name was being considered as the director-to-be, he was criticized as lacking in experience in administrative work. The former manager-turned-official says, "Playing football and administering are not so far apart." In this atmosphere, he set his major goal: to unite all Korean footballers.
Kim also plans to vitalize Korean junior soccer and create an armed forces league to accommodate football talent in the military services.
The most pressing issue he faces is undoubtedly the 2006 World Cup in Germany. Kim is focused on extending his wholehearted support for Dick Advocaat's team.
Players summoned for 45 days of group training-
"We'll call in players to training session that will last for 45 days starting January 15 and ending in late February. A total of seven A-matches are scheduled during this period. This is how we plan to prepare for the Asian Cup preliminary that will be held in February next year," said Kim.
Kim is currently asking for clubs' cooperation in loaning players to the national team in preparation for the upcoming World Cup. He promises to work toward minimizing pro club losses caused by the formation of the national squad.
Kim also stresses that Koreans must clear their head of 2002 World Cup euphoria. Pointing out China's potential based on her vast population, and Japan's solid athletic infrastructure, Kim says Korean football should not get too comfortable in their current position. "Footballers must unite and repay football fans for their support" said Kim. Fans surly hope that his willingness and sense of urgency will energize Korean football.
Won-Hong Lee bluesky@donga.com