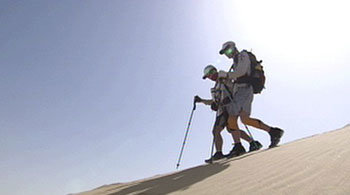 The African Sahara Desert Marathon is one of the world's four most extreme marathons. It is the one that even prominent runners avoid; a marathon that continues for six nights and seven days, spanning 250 kilometers that must be completed in under 50 degrees centigrade weather and sandstorms. Without outside help, participants must haul their own rations and sleeping bags.
One first-degree blind man named Song Kyeong-tae (44•Jeonbuk, a visually impaired library manager) stood up to the hellish test.
KBS1's KBS Special will cover the Sahara Marathon on November 5 at 8:00 p.m..
The first day of the race was September 25. Song began from a point 500 kilometers west of Cairo, Egypt, with 106 other runners from 33 countries. He connected himself to other Korean runners with a one-meter rope. The first day was crucial. Unused to the desert heat, runners dropped like flies. Even Lee Mu-ung (62), who had finished the race before, quit at the 12-kilometer checkpoint. Song collapsed of exhaustion himself 20 kilometers into the race.
Song, who lost his vision when an explosive blinded him in the army, has overcome perilous journeys in the past, such as traversing through North America and climbing the Canadian Rocky Mountains.
Quitting the race so early was out of the question. Thinking of his son, Min (22, Jeonju National University of Education), who participated as a volunteer for the race, he struggled to his feet and finished the first 30-kilometer leg the first day.
The fast food did not agree with him and the sand that blew in his nose and mouth felt gritty.
On the night of the second day, sandstorms wreaked havoc and Song was deprived of sleep after his tent blew away. As his strength ebbed, he dumped out some precious food to lighten his load.
The last critical moment came on the fifth and sixth day as he ran an 80-kilometer section of the race called the "Long Day," night and day. With knees buckling, Song held on to the rope that connected him to the other Korean runners and was literally dragged along.
He finished the race with a record time of 69 hours and 2 minutes, ranking 71st out of the 78 who crossed the finish line. But his finishing time didn't matter to him.
"I am grateful to the 13 Korean participants who led me around turns," he said. "There were times when I thought I would die if I took another step, but I have my family to thank for all the support that kept me going."
Jung-Bo Suh suhchoi@donga.com