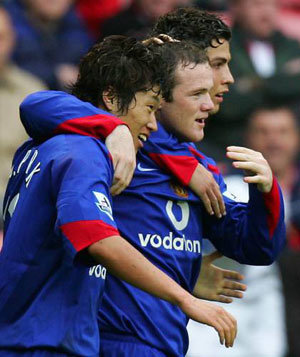 Lee Young-pyo (28, Tottenham Hotspur) and Park Ji-sung (24, Manchester United), Korean players who have made their way into England's Premier League, are contributing to their teams' winning trends.
In his team's 2005-2006 Premier League match against Everton at Whiteheart Lane, London, Lee Young-pyo, who is recovering from thigh injury, played a full 90 minutes as left wingback. By winning the game, 2-0, Tottenham won its third victory in a row and jumped into the second place in the Premier League rankings with five wins, three draws and one defeat. The top spot is held by Chelsea, which has won nine victories in all nine of its matches.
Though he did not score a goal, Lee Young-pyo led the team's offense on the left side with his bold play, and given a rating of 7.0 by the sports channel Sky Sports for being "daring."
Park Ji-sung started as right midfielder in Manchester United's match against Thunderland at Thunderland Light Stadium, and played the full 90-minute match, contributing to his team's 3-1 victory. With five wins, two draws, and one defeat (17 points), Manchester United ranks third in the Premier League standings, trailing Tottenham by a single point.
At the 40-minute mark in the first half, Park Ji-sung made an accurate pass to Wayne Rooney, the team's main forward, who dribbled to the right side of the penalty zone, calmly faked the goalkeeper and successfully scored a goal with a right-footed kick. The local newspaper, the Manchester Evening News, commented that Park Ji-Sung "continuously ran and made decisive passes." The Evening News gave a top rating of 8.0 to Rooney and 7.0 to Park.
Meanwhile, Park and Lee will have their first showdown when Manchester and Tottenham confront each other at Manchester's home stadium at 11:00 p.m. on October 22.
Won-Hong Lee bluesky@donga.com