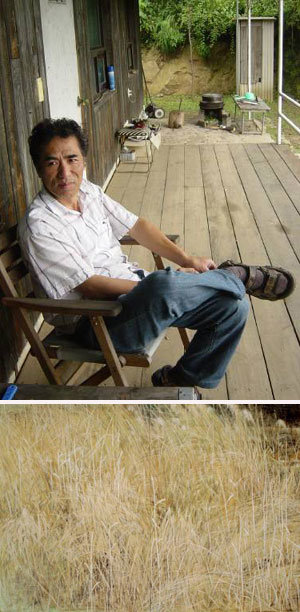 Western painter Kim Seong-ho's (51) workshop in Yangpyeong-gun, Gyeonggi, is reminiscent of 19th century American novelist Henry David Thoreau's home. Thoreau is the contemporary Robinson Crusoe, living near Lake Walden on self-support. Collecting his precious thoughts and emotions while living in the house built in a remote place near the lake, he became famous with his collection "Walden." Kim's place is also in the remote hills. A gurgling brook and a dense forest surround the house, which is smack in the middle of the vast forest. Kim's green thumb peeps through in a small garden in the front yard.
Ten years ago, he came to this place and built a log cabin alone. Except for the roofing that required help for a few days, everything from blueprints to raw materials and construction he himself did alone. By self-study, he laid electricity lines, water pipes, and drainage pumps. It was a project in which he started to provide a low-budget workshop for himself, but as it turned out, architecture became a fascination for him.
Kim even says, "Building houses is the best recreation that combines thinking with labor." Another thing he merrily boasts of is the small amount of garbage that comes from his meticulous planning.
The pigments in his paints are also hand-made. The silky canvass fabric is bought; the rest are ground directly from nature, such as dirt, gravel powder, tiles, and pieces of red flower pots. The resulting landscapes are warm and subtle, somewhat Korean and somewhat Western, almost like India ink paintings with a touch of oil paintings.
The natural pigments give thin and subtle medium tones that manufactured paints can't imitate, and the artist may follow the line of the silk for delicate coloring, or leave marks with a thick, coarse brush made from crows' tails. In the house he built, with the paints he made, sometimes penniless, sometimes without food, the artist immersed himself in expressing himself and his inner thoughts in the midst of the natural scenery.
The most frequent subject of his landscapes is the cozy country. Low hills overridden by tall grasses, harvested fields, greenery from late spring and mid-summer, mountains shadowed by clouds drifting on winds, mysterious plains, open prairies full of small wildflowers, snow piled on rice fields…. Instead of splendid scenes, fantastic boulders, or purple mountains majesty, familiar images of old country towns where our grandparents and parents grew up exude feelings of homeliness to young city dwellers who have no memories of such places.
Kim's landscapes aren't intense, yet they have a power that keeps your eyes glued. For a long time it seems as if the looker is actually between the reeds, in the forest, above the hills, and on the winding road. And wistfulness tugs at the heart.
For the fall semester, Kim was appointed associate professor at the Hongik Graduate School of Art, and is juggling both art and teaching. He feels thankful for the institution recognizing talent in such a mountain-grown rustic, and for keeping his funds alive, but the side job business doesn't come easy for Kim in his 50s.
Kim's 11th private exhibit will be held until October 5 at the Savina Art Museum located in Anguk-dong, Jongno-gu, Seoul (02-736-4371, 4410). Some 30 pieces on silk and 10 dots and drawings will be shown. "Reeds," a 4.6 by 1.6 meter masterpiece, is perfect for an autumn atmosphere, with its vista of dusky fields and withered trees yawning through the cluster of reeds.
Mun-Myung Huh angel@donga.com