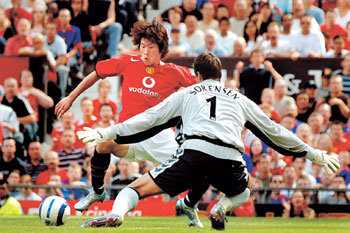 On August 20, Manchester United continued its winning streak by defeating a formidable rival, Aston Villa FC, and Park Ji-sung made yet more important progress in the process of learning Premier League soccer.
Park's firm resolve and dynamic movements in a debut match in Manchester has confirmed that Park is well worth his salary of four million pounds.
Park's career for Manchester United is still short, but coach of Manchester United, Alex Ferguson, once again deployed Park as a starting member instead of Cristiano Ronaldo. It is because coach Ferguson was deeply impressed at Park's play in the opening match against Everton FC on August 13, and so, Ferguson wanted to win the game against Aston Villa FC by having Park in the game.
Coach Ferguson once applauded Park by saying, "I feel so happy watching Park."
Park, however, needs to give more touch on his skill in order to achieve genuine success, like his Manchester team formation play skill.
Coach Ferguson deployed Ruud Van Nistelrooy as a one striker, and made Park and Wayne Rooney help Nistelrooy from the both sides in the game. Under this system, Manchester was able to lead the offense. Coach Ferguson may have been satisfied, but it failed to completely neutralize Aston's defense.
Passing the ball with Paul Scholes and Van Nistelrooy, Park shot with explosive power at one moment at the 28-minute point of the first half, and Aston's goalkeeper Thomas Sorensen touched a ball in a stunt-like dive. The ball hit the crossbar and flew wide of the goalpost, but Park's shot turned the tide of the game toward Manchester.
So far, Park, the first Korean player in the Premier League, looks "very good." Manchester United has won three consecutive games, just as the coach demanded, and didn't allow even one goal.
In an interview with an official magazine of Manchester United, Park said, "I realized the speed of a game is very fast," and added that he wants to prove himself at the level of the Premier League and that he wants to help his team win the Premier League and Champions League.