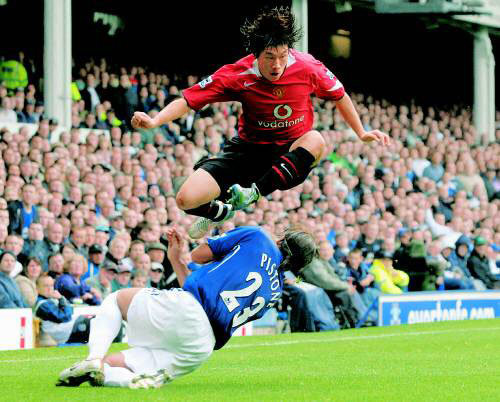 On the homepage of British Broadcasting Corporation (www.bbc.co.uk) is a section named "Have you say." It is a place where netizens debate various kinds of issues. It also runs chat rooms for each soccer team of the Premier League.
On August 17, there was a little ruckus in the discussion room for Manchester United. It started after one netizen opened a "discussion room for Park Ji-sung," and said, "Though Park has passion, Park doesn't show impressive play." Other netizens bombarded the chat room with opposing comments such as "did you say that watching Park's play?", "Park Ji-sung has just played one game, and it was fairly impressive."
After being criticized for racial discrimination, a netizen who denounced Park eventually admitted that he was Chinese and had to hear that he was jealous of Park.
Park Ji-sung (24) has played just one game in the Premier League, but he is already heating up the British Internet.
The British love for soccer is particularly well known. It is reflected in hooligans like fanatics, beyond the pride of being the suzerain of soccer. The Internet is also no exception to uproar when it comes to soccer. There are numerous soccer discussion rooms on newspaper, broadcast, and portal sites, as well as teams' homepages.
Korean netizens' impetuosity is also world-class. After Park joined Manchester United, Korean netizens' comments are often found on the homepage of Manchester United (www.manutd.com). It also appears that Korean netizens' power was reflected in Park's lead ahead of Wayne Rooney in the fan voting for "best-performed player" conducted on the Manchester United homepage after the match against Everton on August 13.
Competition among countries is also notable in the British soccer chat room. In particular, China, which has witnessed a drastic increase in the number of Internet users, is a typical example. It is so to the degree that Manchester United opened a Chinese version of its homepage. A reporter from a Chinese Tianfu Zaobao (Tianfu Morning News) said, "It seems that Chinese netizens envy and feel jealousy of Park's active part in the Premier League, who is from a small neighboring country to China."
Meanwhile, Park is expected to play as a starter in the opening match against Aston Villa FC to be held at the Old Trafford Stadium in Manchester at 8:35 p.m. on August 20 because it is unclear whether Cristiano Ronaldo and Ryan Giggs, Park's rivals within the team, would be available for second-round play as they haven't yet recovered from their injuries.
Jae-Yun Jung jaeyuna@donga.com