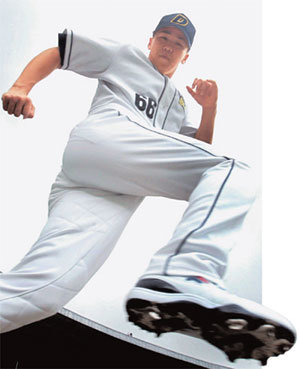 Something strange is happening in the world of professional baseball this season—a pinch runner, who spends more time on base than at bat, may become the top stealer of the league. Actually he has a piteous record as a batter; a meager batting average of 0.153, only 11 hits, four RBI and three walks, with 30 strikeouts and no homeruns.
"I don't feel bad at all. I'm happy for the fact that I can even play in the game. I had thought that I would only have the chance to play in the minor leagues for my first two years."
Yoon Seung-gyun entered the team as a "trainee," receiving no contract fee and a yearly salary of only 20 million won. He was selected by Hyundai in the 12th round of the second draft in 2000 just before graduating from Shin-il High School, but Hyundai gave up on the pick and it was after much difficulty that Yoon was able to enter Doosan.
However, his running speed is outstanding. He already ran 100 meters in 14 seconds in elementary school, and by high school his record was close to 11 seconds. Standing 184cm tall and weighing 80kg, Yoon has a slender figure and looks even taller due to his long legs.
In practice games held before the season, Yoon caught the eye of coaches with his exceptional base-running ability. Mobility is an important factor in baseball, for it is effective in shaking up the pitcher and makes a difference in close matches. Indeed, in 1984, (though the plan ended up failing) Lotte brought in Seo Mal-gu, holder of the Korean record in the 100m dash (10 seconds 34), to pinch run.
Yoon has a sturdy supporter. His mother, Park Young-sook (54), ran a beauty salon to raise her only son since Yoon's father died of liver cancer when he was only seven years old. She never forgets to record her son's matches and frequently visits the stadium. Yoon watches the recorded videos at home to analyze the pitchers' pitching form and look back at his performance.
"I am happy that my dream of becoming a professional baseball player has come true, but above all I am happy about the thought of being able to support my mother with my own capacity."
Yoon says he is thrilled and excited whenever he stands on base. "Watch me. I will improve my batting average and become a lead-off man in a year or so."
Like Hanwha coach Chang Jong-hoon, who also started out as a trainee, Yoon Seung-gyun's dream is ripening.
Sung-Kyu Kim kimsk@donga.com