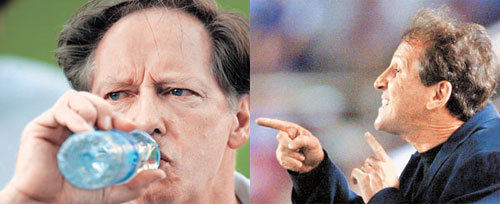 "A fatal rival match."
The Korean national team, led by Jo Bonfrere, will meet the Japanese national team led by Zico at 8:00 p.m., August 7 at Daegu World Cup Stadium.
For both teams, this match is not to be taken lightly. Currently playing in the East Asian Football Championship 2005, both teams are suffering from tough criticism from their respective nations.
Soccer fans criticize Bonfrere for lacking creative tactics. After drawing games with China and North Korea consecutively, his excuse was, "The players were confined to side passes and back passes throughout the game. I am experimenting with the young players," but this was not enough to soothe the anger of the fans.
The Japanese national team coach Zico reproached his team for "lacking vigor" after the team lost to North Korea, but also received harsh criticism from the media himself and his qualifications came into question.
Moreover a Korea vs. Japan match is a hot issue for the citizens of both nations. The two head coaches who are currently under fire will be tested once more in the most heated match of all. The two teams have not faced each other for 20 months since they tied a game at the East Asian Football Championship on December 2003.
Korea leads in the rivalry with 38 wins, 18 draws and 11 losses.
Japan's strikers Motoyama and Maki are expected to face-off with Bonfrere's "favorites" Lee Dong-guk and Lee Chun-soo.
Having led two games to a draw in this championship, Korea has a chance of winning the cup if the team wins over Japan, but depending on the results of the North Korea vs. China match that is also to take place this day. If North Korea wins over China North Korea will be the champions.
In the women's match, North Korea faces China and South Korea faces Japan on August 6 in Daegu. Having won the two previous games, the South Korean team can win the cup if they at least tie the next game.
Won-Hong Lee bluesky@donga.com