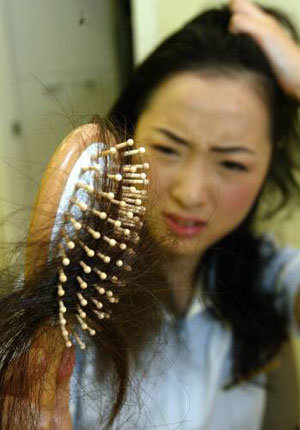 Six Percent of Women Suffer from Hair Loss; No Difference Between Sexes-
You may wonder why a woman in her heyday would worry about hair loss, but six percent of Korean adult women are suffering from alopecia. Given that 14 percent of adult men are losing hair, this is not a figure to be dismissed. Female hair loss may develop at any point in life after adolescence, when the male hormone "androgen" increases in the body.
Hair loss does not necessarily develop more easily in summer. No matter how healthy your scalp is, everybody loses hair and gains new hair. The hair that falls off when washing your hair is old and it is natural that you lose it. Normal people shed 50 to 60 strands of hair per day on average.
However, for people like Gu who have a lot of sebum and sweat, hair loss symptoms can get worse when seborrheic dermatitis of the scalp gets severe due to hot weather. Also, long-time exposure to UV rays outdoors may facilitate hair loss as the scalp becomes dry.
The simplest way to find out whether you are suffering from hair loss is to softly pull some 10 strands of hair for one to two seconds. If the scalp is normal, one or two strands will drop. More than four means that you are very likely a hair loss patient and consulting a dermatologist is recommended.
Is Seaweed Good for Hair Loss?-
It has not been confirmed medically that seaweed, black beans, and parched sesame seeds help prevent hair loss. However, you should not eat too much animal fat and sugar because some research findings say that cardiovascular diseases are associated with hair loss. In fact, larger people are more likely to develop hair loss than their thinner counterparts.
It is divided whether soap or shampoo is good for washing hair, but "what you use to wash hair" does not affect hair loss symptoms greatly. Just avoid overly strong shampoos or soaps which may dry your hair and damage your scalp.
Oily hair should be washed every day with lukewarm water. Nonetheless, because you can irritate the scalp with too frequent shampooing, simply rinse your hair with water in the morning if you have already shampooed the previous evening after coming back home. Do not rub the hair with a towel, just dab it gently.
Tying Hair Too Tight Could Encourage Hair Loss-
"Ponytails" which put the hair up and show the back of your neck make people feel cool during hot weather. Yet, be careful not to tie your hair too tightly since you may develop "traction alopecia" due to hair root damage.
As of yet, there is only one proven female hair loss treatment called Minoxidil, a topical ointment. This treatment must be taken with care as it displays outstanding effects in early alopecias, but aggravates symptoms when the scalp has inflammations.
(Information provided by Asan Medical Center dermatology professor Choi Ji-ho and Kyung Hee Medical Center dermatology professor Shim Woo-young.)
TK Sohn sohn@donga.com