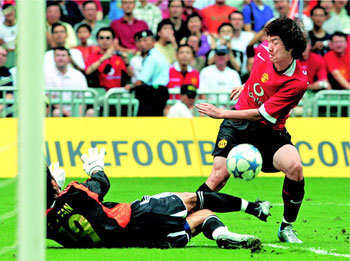 The biggest reason why Alex Ferguson, the director of Manchester United, recruited Park, Ji-sung is to replace Ryan Giggs as a midfielder later. Ferguson said "Park has great energy to run anywhere, like right and left, and in the middle. Giggs has played well for Manchester for the last 15 years. He will turn 32 this November."
Can Park Ji-sung replace Giggs?
In the game on July 23, he seemed to earn a passing mark. Jo Gwang-rae, the former FC Seoul coach made a comment after watching Park's game on that day that he seemed to sense how the team moves.
The former coach Jo has been closely watching Park while going through training together since Park joined Manchester United. He knows the changes Park has made since joining Manchester United better than anyone else. Park Ji-sung practiced many times with the team's main players such as Wayne Rooney, Paul Scholes and Ruud van Nistelrooy before leaving for the Asian tour.
Jo said that on the flight to Hong Kong, he advised Park not to move too far away when a final defense held a ball and he added "Park played well today but that he will be a perfect player if he shoots balls more aggressively than he does now."
Jae-Yun Jung jaeyuna@donga.com