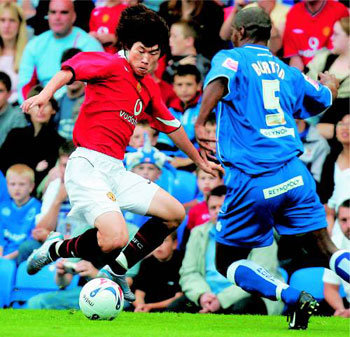 Park Ji-sung of Manchester United, the first Premier League player in Korean football history, will participate in the club`s 2005 Asian tour (Hong Kong, China, and Japan).
The prestigious English club announced on July 20 its 27 player list and schedule for the four-game tour, starting with a match against the Hong Kong national team in Hong Kong Stadium at 5:00 p.m. on July 23.
The team will play its second game against Beijing Hyundai at People`s Stadium in Beijing at 8:30 p.m. on July 26. The third and fourth matches will be held in Japan against the Kashima Antlers at 7:00 p.m. on July 28 at Tokyo National Stadium, and against the Urawa Reds at 7:00 p.m. on July 30 at Saita Stadium. Since the tour was planned before Park`s move to the club, a match in Korea was not scheduled.
Most of current players as well as newcomers and future prospects will participate in the tour. The club`s midfielder, Roy Keane, who is suffering from a thigh injury, and Wes Brown, who has an injured Achilles tendon, were included on the player list. Gabriel Heince, who participated in the Confederation`s Cup as a member of the Argentina national team was not included on the list.
Manchester united beat the Malaysia, Singapore, and Thai national teams by scores of 6-0, 8-0, and 2-1 in its 2001 Asian tour when David Beckham, the English soccer superstar, was a member of the team.
Park in the meantime appeared in his second match against Peterborough United of the English third division at London Road Stadium. He played in the first half of the game. It was his second match after moving to Manchester United, following his debut match against Clyde, a second division team in the Scotland League. English soccer sensation Wayne Rooney also appeared in the game as a starter. Park, however, has not yet fully adapted to his new team, failing to score a point and was substituted for in the second half. The score at the half was 0-0.
The team changed all 11 players in the second half and team scored six goals to finish the game, 6-0. The club`s striker Ruud van Nistelrooy grabbed a hat-trick, Christiano Ronaldo had two goals, and Giuseppe Rossi had a goal.
Jae-Yun Jung jaeyuna@donga.com