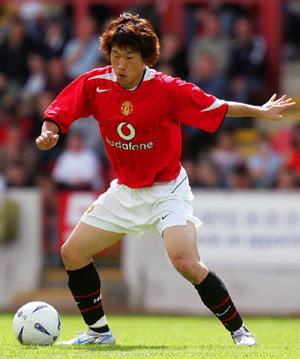 "Mickey Mouse" Park Ji-sung (24) played a fantastic game his first time wearing a Manchester United uniform.
Park played the first half at a preseason friendly with Clyde FC of Scotland at Broadwood Stadium, Scotland, on July 16.
As right wing with the number 11 on his back, instead of his former 13, Park contributed to the first score with a sophisticated pass to striker Luis Saha.
In the 31st minute, sprinting down the right flank, Park passed a roller to Saha who was waiting at the penalty arc. When goalkeeper of Clyde Peter Cherrie stopped the goal, Kleberson from the left blazed the ball into the net. Park did not get credit for an assist, but his quick pass deserves attention.
Park shook off a defender in the mid and right field, and in the middle of the game, he tried a header.
Finishing with 1-0 lead in the first half, Manchester United replaced all 11 players and put in major players like Van Nistelrooy, Giggs, and Scholes. Manchester United scored an additional four goals afterwards, winning, 5-1.
Jae-Yun Jung jaeyuna@donga.com