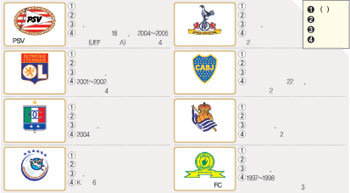 "The Collision of Continents"-
Famous soccer clubs representing Europe, South America, and Africa will visit Korea to compete with Korean clubs in 2005 Peace Cup Korea, an annual intercontinental club soccer event held in six cities in South Korea from July 15 to 24.
A total of eight club teams from all the continents except Oceania and North America will participate in the event for $2 million (2.07 billion won) in prize money.
The tournament's first matches between PSV Eindhoven from the Netherlands and Songnam Ilhwa of South Korea at Seoul World Cup Stadium in Sangam-dong, and Olympique Lyonnais of France and Onse Caldas of Colombia in Busan World Cup Stadium, will be held at 7:00 p.m. this Friday.
PSV Eindhoven, which was semi-finalist in the 2004~2005 UEFA Champions League tournament with the help of Korean duo Park Ji-sung and Lee Young-pyo, is considered the leading candidate to win this year`s Peace Cup championship, even though it lost only two starters; DaMarcus Beasley, who joined the U.S. national team, and Theo Lucius, who is in a rehabilitation program. Guus Hiddink, the head coach of the Dutch club who became the first Peace Cup champion in 2003, said that he will try his best to win the championship once again.
Songnam Ilwha, who finished the first half of the 2005 Korean League in sixth place, is determined to showing the power of Korean club soccer with striker Kim Do-hoon ready to play and the recently signed Motta, who recorded the most goals in the league last year.
Olympique Lyonnais, who will play the championship opener against Onse Caldas, is also considered to be a championship contender. Lyonnais, who won the French League championship three times in a row, is famous for its strong teamwork. The team recently signed John Carew, the starting striker of the Norwegian national team.
After being defeated by PSV Eindhoven in a penalty shootout at the quarterfinals of the 2005 UEFA Champions League and in the 2003 Peace Cup final by a score of 0-1, Lyonnais will be seeking revenge against PSV Eindhoven.
Onse Caldas, who will play against Lyonnais, is a Colombian powerhouse with many talented players including Juan Carlos.
Won-Hong Lee bluesky@donga.com