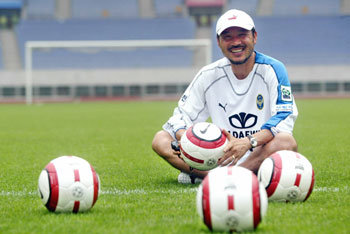 Hahm Heung-cheol, Jang Un-soo, Jo Yoon-ok, Kim Jeong-nam, Lee Cha-mahn, Shin Yoon-ki, Cabrinovic, Ivancevic, Lorant…
In both Korea and Japan, he has worked under 11 famous soccer coaches. In addition, he has been an acting coach of professional soccer teams no fewer than six times. In Japan's J-League, he had closely fought matches for three years as the head coach of two clubs (Verdi Kawasaki, Consadole Sapporo).
He is Jang Woe-ryong (47 years old), the manager of Incheon United FC. Now, every eye in the K-League is on him. Incheon United was born just a year ago, but it is now ranked a surprising second (as of July 1) in the regular K-League. On June 30, I met Manager Jang at the Incheon Munhak World Cup Stadium.
"Our team has neither super-talented player nor sufficient financial backing. But a soccer team needs more than just a single talented player or two. Money does not guarantee good performance, either."
Last year, Incheon United was at the bottom of the first-stage regular league (by coming in 13th) and the fourth team in the second stage. After Jang came to the Incheon United this January, however, the mood on the team changed dramatically. One can see confidence among the players. Manic leads three Yugoslavian players (Manic, Radoncic, Agic) on the club. He says, "We are like a family. All of us make mistakes. Whenever someone makes a mistake, we forgive and encourage him." Seong Gyeong-mo, a goalkeeper, was confident, saying, "We never imagine that we might lose this season."
What could possibly make them so confident?
"Soccer is all about brains and communication. There should be no such thing as seniority when it comes to the communicating on the field. Even the young players should be allowed to speak their mind in front of much older players."
Manager Jang is concerned with only three things: soccer, his religion (he is a Christian) and his family. With his friends' insistence, he began learning golf years ago. Still, he is such a lousy golfer (120 hits) that he plays like "kicking the ball with the top of his foot."
Jang personally edits the tapes that he makes of his team's games. He watches tapes of his own team's games and his opposing teams' games and then turns them into two 10-minute tapes.
He is the first non-Japanese to pass the exam in Japanese to receive an S-level license. The Japan Football Association grants S-level licenses only to the most qualified coaches.
"Both players and coaches need to feel comfortable. To feel that way, we need to enjoy soccer. I don't fret about losing and feel too happy about winning."
In the early 1980s, Jang was a famous left fullback on the Hwarang, one of the two divisions of the national team. But he has not had the chance to lead the national team in the Olympics or the World Cup. So he hopes to become the head coach of the national soccer team for the 2010 World Cup.
"I would like to give some excitement to the world with top Korean soccer players. Am I too ambitious?"
It's obvious Jang is into soccer.
Hwa-Sung Kim mars@donga.com