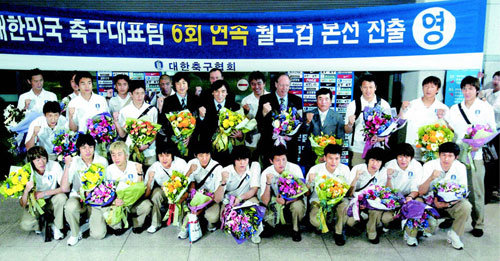 "It is now the boys' turn to create a sensation."
Having made it beyond the World Cup qualifiers for the sixth consecutive time, Korean soccer is preparing for another miracle.
The Korean U-20 national soccer team, led by Park Sung-hwa, meets European stronghold Switzerland in Emmen, Netherlands at 3:30 a.m. on June 13 for Group F's round one match for the 2005 FIFA World Youth Championship.
The Korean team, which expects to relive the semi-final dream for the first time in 22 years, will have to exert full force from the first game in order to make it to the later rounds, because after Switzerland, Korea meets African champions Nigeria and defending champions Brazil.
The Korean team is already on the rise, having won 2-1 in the final practice game against Honduras on June 8 in Nijmegen, Netherlands. In addition, two core players, Park Joo-young (FC Seoul) and Kim Jin-kyu (Jubilo Iwata) finally joined the team on June 10, lifting the team to top condition.
Head coach Park Sung-hwa is planning to go with a "4-4-2" formation. Park Joo-young and Shin Young-rok (Suwon) will lead the offense. Shin Young-rok, who has been wearing a facemask due to a fracture to his chin, is expected to have no problem as a starting member, having scored a goal in the match against Honduras and deemed able to make head shots.
With Park Joo-young's comeback, teammate Kim Seung-yong (FC Seoul) will change his position from front line striker to right wing and focus on side breakthroughs and sending elaborate cross-kicks. Baek Seung-min (Yonsei University), Baek Ji-hoon (FC Seoul), and Hwang Kyu-hwan (Suwon) will take the midfield, and Kim Jin-kyu, Park Hee-chul (Hongik University), Lee Gang-jin (Tokyo Verdy), Oh Jang-eun (Daegu) and goalkeeper Cha Ki-seok (Chunnam) will guard the defensive line.
The core members of the Swiss team are those who had played on the team when Switzerland won the 2002 European U-17 Championship, and they include Philippe Senderos, Johan Djourou (both Arsenal), Reto Ziegler (Tottenham) and Johan Vonlanthen (Brescia).