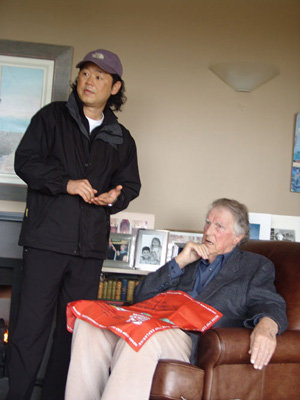 "I'm honored to have added a stroke to the history of exploration begun by your conquest of Mt. Everest with my Grand Slam expedition," said Park Young-seok.
"My junior, you've achieved an unbelievable feat. I can only admire your strong spirit of challenge," replied Sir Edmund Hillary.
The "Godfather of Alpinists" and the new star of the mountain climbing world exchanged a heartfelt embrace.
On May 1, Park Young-seok (42, GoldWin Korea, Dongguk University Alpine Club OB) became the first person in history to successfully complete the alpine Grand Slam by ascending the 14 highest 8000m Himalayan Peaks, the seven summits of each continent, and the three poles. Fresh from his grueling achievement, Park recently visited the home of Sir Edmund Hillary (86) in Auckland, New Zealand.
His meeting with Sir Hillary, who climbed Mt. Everest (the earth's highest peak at 8850m above sea level) for the first time in the world in 1953, is the second in a year and three months since he visited the revered alpinist in February 2004 on his way back from a successful expedition to the South Pole.
To Park's declaration, "I kept my promise of achieving the alpine Grand Slam," Sir Hillary replied, "You've done a truly great thing," and joyfully grasped the younger man's hand.
True to their reputations as alpinists, the topic of conversation quickly moved from well-wishing to expeditions. Park brought out an alpine Grand Slam commemorative bandanna illustrated with the 14 Himalayan Peaks, the North and South Poles, and other places, which he brought as a gift, and Sir Hillary poured out one question after another. He asked, "How many years did it take you to climb the 14 peaks? The North Pole and the South Pole are vastly different; what methods did you use to reach them?"
When Park told him that he was 42 years old, Sir Hillary fell into silent recollection. "It's still a young age. There's so much to do… It was terribly difficult climbing Mt. Everest 50 years ago, but I didn't lack for spirit and ambition."
Sir Hillary's curiosity knew no bounds. He asked, "So, what are you going to attempt next?" To Park's reply that he was planning "to cross the Everest sometime next year," the senior alpinist joked, "I want to go too. What do you think of carrying me on your back?"
After journeying to Everest last year for the 50th anniversary of his expedition, Sir Hillary's health took a turn for the worse. But throughout the nearly hour-long conversation, he happily entertained his "junior" without a sign of tiredness.
The two alpine heroes bid each other a fond farewell, crying "Namaste" with their palms pressed together as they often do in the Himalayas.
Chang Jeon jeon@donga.com