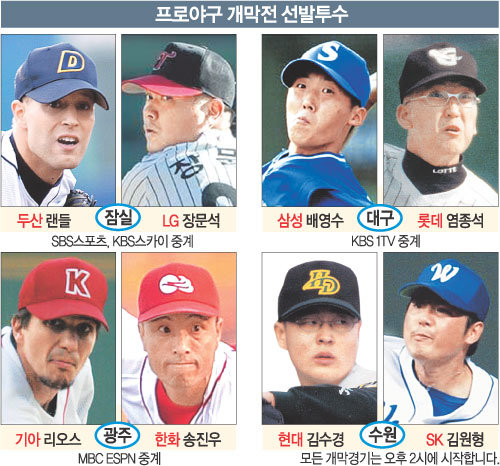 Will Sun Dong-yeol, the new manager of the Samsung Lions, lead his team to the championship in his first year? Will the losers for four consecutive years, the Lotte Giants, fare better this season?
The opening day for the 2005 Pro-baseball season is April 2, when the teams are to take the first step in an odyssey consisting of 126 games each that will continue through the end of August. Here is a checklist of some points worth noticing this season.
Will the Samsung "Yankees" Grab the Championship and Will Lotte not Come in Last?—
Having acquired FA big fishes Shim Jung-soo and Park Jin-man, the Lions are statistically the strongest candidates for the championship. The biggest variable is Sun's uncertain operation abilities and leadership.
The Giants may not have to be the losers this year, if the performance that the team has shown in the exhibition games continues throughout the season. The team has a strong mound, with starters such as ace Sohn Min-han, who has pitched a scoreless nine innings, Joo Hyung-kwang (exhibition game ERA 1.00), Yeom Jong-seok (ERA 1.50), and closing pitcher Noh Jang-jin who has given up no runs for six consecutive games. The Giants' concern is in the bats, having a team batting average of 0.220. MBC sports analyst Hur Gu-yeon predicted, "The Giants may even make it to the top four."
Who will be MVP and Rookie of the Year?—
If Shim Jung-soo, who signed with the Lions with the biggest FA contract ever, exhibits his power and leads his team to the championship, he might be able to take his first MVP title. Bae Young-soo, who had a no-hit, no-run record during last season's Korean Series, will go for a second consecutive MVP title. Lee Jong-bum (Kia Tigers), who recovered from a slump with the highest batting average in the league in the exhibition games, and "Next-generation slugger" Kim Tae-gyun (Hanwha Eagles) are also MVP candidates.
Among the rookies, pitcher Kim Myung-jae, who joined the Doosan Bears this season with a 600 million won contract (the highest amount for a rookie), stands out. The Giants' Lee Won-seok (19), who batted 0.250 and hit one homerun at the exhibition games, is also a strong candidate.
What Records will be Established-
"Man of Records" Jang Jong-hoon's (Hanwha Eagles) every step is a record. He is close to breaking numerous records this year, including 2,000 games played (-57 games), 350 homeruns (-11), 1,800 hits (-30), 350 doubles (-10), 1,100 runs (-58), and 1,000 walks (-3).
Left-hand pitcher Song Jin-woo (Hanwha Eagles), a 17-year veteran player who won 11 games last year and has 182 career wins, will try to be the first pitcher to pass the 190 wins mark and could even exceed 200. He is also only 41 strikeouts shy of making 1,800, which would also be a record. Yang Jun-hyuk (Samsung Lions) and Jeon Joon-ho (Hyundai Unicorns) will go for three-digit number of hits for the 13th consecutive year, and two-digit number of steals for the 15th consecutive year.
Various Events on Opening Day—
At Jamsil Stadium, cheerleaders will perform an acrobatic show. At Suwon Stadium, mass entertainers' baseball team "Jomajoma," in which actor Park Sang-won and singer Lee Moon-sae are members, will play for 50 minutes against a Hyundai Unicorn fan club baseball team. At Gwangju Stadium, comedians Lee Hwee-jae, Bae Chil-soo and Jeong Jun-ha, and singer Yoon Jong-shin will lead their team "Han" to a friendly match against the Kia Tigers' coaching staff.
Sung-Kyu Kim kimsk@donga.com