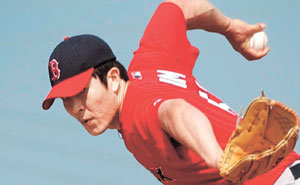 Kim Byung-hyun (26) finally ended his ill-fated sojourn in Boston. Unfortunately, his new home is the Colorado Rockies' Coors Field, known as "the pitcher's grave."
The Major League Baseball Commission announced on March 31 that Colorado received Kim Byung-hyun from Boston in exchange for veteran pitcher Charles Johnson, minor league prospect Chris Narveson, and 2.6 million dollars.
Gain or Loss for Kim?—
For Kim, the trade comes like sweet rain after a long drought. Unlike his stint in Arizona, the year and 10 months he spent in Boston saw Kim thoroughly alienated by the coaching staff, his teammates, and Red Sox fans alike. Frequent injuries, a slump, and the notorious "flipping off" incident pushed him across the bridge of no return. Boston's relentless press also drove the shy right-hander to the wall.
By contrast, Colorado enjoys an enthusiastic fan base numbering over three million spectators each year, but its preoccupation with winning is relatively less. The Rockies are almost certainly out of the contention for a championship title this year, so that reduces a lot of the psychological pressure as well. Last year, the Rockies ranked fourth in the National League West, with 68 wins and 94 losses. The problem is their home, the Coors Field, located at 1,650m above sea level. At Coors, a run-of-the-mill fly ball to the outfield turns into a home run. But, more than any physical obstacle, the lifting of the mental burden seems to figure largely for Kim.
Kim's New Position?—
As soon as Colorado secured Kim, it sent right-handed reliever Aaron Taylor back to the minors, placed Aaron Cook on the disabled list, and added Kim to the roster.
Reporter Thomas Harding, in charge of MLB.com's Colorado website, reported that Kim would make his debut in the Rockies' exhibition game against Texas, pitching in middle relief. He also wrote that, although Colorado would use him for long relief during the early part of the season, the long-term "plan is to ease him into the closer job."
This forecast stems from Colorado's ongoing vacuum in the closer spot. Although Shawn Chacon made 35 saves last year, his overall record was a paltry 1-9 with an ERA of 7.11.
Contrasting Evaluations from Colorado and Boston—
Boston's postseason mastermind, general manager Theo Epstein, stated right after the trade to Colorado that signing Kim "was certainly a mistake" and added, "It`s just a mystery what happened to this guy," effectively driving a knife in the back of the departing Kim.
On the other hand, Rockies manager Clint Hurdle said that Kim Byung-hyun had found his rightful place in Colorado, and noted, "We`re looking for a player with experience, who`s had a history of success. He`s pitched big games, he`s pitched big outs."
Hwan Soo Zang zangpabo@donga.com