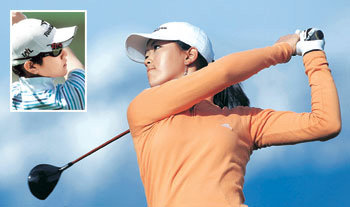 "Amateur as good as a pro," Michelle Wie, 15, and "The hope for Japan's golf," Ai Miyazato, 19-
The Nabisco Championship (total prize money of $1.8 million), the first major tournament of the LPGA this season, put the two teen stars in the same group for the first round, drawing much attention. Wie won a huge victory over Miyazato in the first round of the tournament at the Mission Hills Country Club (par 72) in Rancho Mirage, California.
Wie, nearly a foot taller than Miyazato, forestalled the Japanese star by sending most of her tee shots about 40 yards further than Miyazato's on par four and par five holes. Wie, an amateur as good as a professional, seemed to bag her victory early on as she birdied three times by the 10th hole, leading Miyazato by six strokes, who bogeyed three times.
Miyazato was no match against Wie, who had top ten finishes in 2003 (tied for ninth place) and 2004 (fourth place) in this tournament held at the same golf club. The net result was Wie in fourth place with the golf empress Annika Sorenstam of Sweden (two-under at 70) and Miyazato tied for 43rd place (three-over at 75).
However, Michelle Wie missed four winnable two-meter birdie putts. Miyazato gathers 1,000 galleries on every round in Japan, but could not adapt to the greens of U.S. golf clubs and failed to make a single birdie.
After the match, Wie said simply of Miyazato, "She is a great player," and added, "I'm learning Japanese these days but I couldn't make use of it because she spoke English so well."
Meanwhile, another Korean star, Kim Mi-hyun, was off to a great start, heading for her first major victory ever with the lead shared with Rosie Jones (USA) and another player, hitting three-under at 69.
Grace Park (Nike Golf), the defending champion, finished tied for 22nd place hitting one-over at 73, and Seri Pak (CJ), on the road to a career grand slam, finished five-over at 77, which tied her for 68th place.
Young-Sik Ahn ysahn@donga.com