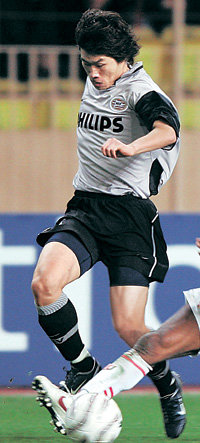 "Park Ji-sung, Number One."
Park Ji-sung (24, PSV Eindhoven), star of the Korean national soccer team, is in his prime this spring.
Park Ji-sung did not score in the match on March 18 against FC Groningen (1-0), but his play in that game still won him inclusion in the top 11 list of Netherlands soccer journal "Football International."
"Football International" selects one player from each position out of the 18 Dutch pro-soccer teams. Philip Cocu, Van Bommel, and Alex from Eindhoven were also selected to the top 11 along with Park. It was the third time Park has been selected to the list since his debut in the Netherlands.
Park scored two goals as a midfielder, leading his team to a 4-0 victory last week at ADO Den Haag, and was selected as the Man of the Match by the broadcast station Canal Plus. He has completely adjusted to the European stage after being assessed favorably two weeks in a row.
Even his teammates, known for their cliquishness, are now acknowledging Park.
Choi Sam-yeol, a correspondent of Dong-a Ilbo, said that "Despite an indifferent initial reaction, Eindhoven captain Van Bommel is now reacting favorably to Park Ji-sung." When Park entered the league, Van Bommel was quoted as saying that "there are lots of good players around; why bring in nobody from Asia?" Recently, however, he was quoted as saying, "I was hasty in my judgment. Park is essential to our team."
Correspondent Choi stated, "When Park first joined the team, Dutch fans booed him, but now they're watching Park's play closely." Gus Hiddink also joined the growing ranks of Park supporters on March 12, saying that "Park should stay for three more years."
Park will play in PSV Eindhoven's upcoming match against the formidable Ajax, currently ranked third with a record of 16 wins, 5 ties, and three losses (scores: 53) at Amsterdam on March 20.
Jong-Koo Yang yjongk@donga.com