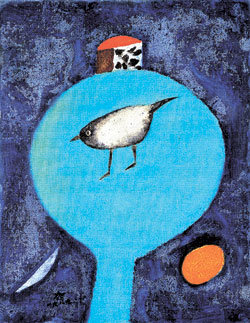 The large amount of snowfall on the first morning of March seems to deny the arrival of spring, but it felt very warm in the afternoon. Challenges large and small make life difficult and the still cold weather keeps one from heading outdoors, but art galleries already bloom with the burst of springtime. Here are some bright, warm galleries full of spring.
"Blue," "Korean Contemporary Art Festival," and Other Exhibitions in Full Bloom-
The Gana Art Gallery (Tel. 02-720-1020) in Pyeongchang Dong, Seoul will hold an exhibition titled "Blue" from March 9 to March 27. This unique exhibition portrays the images of spring in blue, rather than in yellow, the familiar color of spring. After all, as the world's first astronaut Gagarin said, the color of planet Earth seen from outer space is blue. Blue is also the color of energy, freshness, and new beginning as many Korean words such as "Cheong chun" (youth) and "Cheong shin ho" (green light) include "cheong," which means "blue."
This exhibition provides over 60 pieces of blue paintings including Kim Hwan-ki's great painting of the blueness of Korea's sky and the East Sea amidst blue dots, Chang Wook-jin's "Night with Moonlight," a deep bluish portrayal of a dark night with dim moonlight, Rene Magritte's painting with Da Vinci's "Mona Lisa" motif, and Chagall's blue portrayals of a world of dreams and fantasy. In addition, "Blue" exhibits paintings by Korea's new and experienced artists such as Chung Yeon-hee, Kim Taek-sang, Lee Ka-bong, Kong Seong-hoon, and Choi So-young. White chinawares with blue paintings made by the noble class in the second half of the Joseon Dynasty are also noteworthy.
One of Korea's greatest art festivals, the Fifth Korean Contemporary Art Festival (KCAF), will be held from March 4 to March 16 at the Hangaram Art Museum (Tel. 02-544-8481, 2) of the Seoul Arts Center. This festival will provide a golden opportunity for those who plan to decorate their homes in springtime-fashion with a painting or art lovers who have been too busy to follow the trends of contemporary art. This festival will hold over 1,000 paintings by 106 painters from home and abroad such as Kim Chang-ryul, Ahn Byung-seok, Lee Du-shik, Ji Seok-chul, and other senior or middle-aged artists and young artists in their early 30s full of power and energy. Special auctions will be available at the festival as well. These auctions will bid pieces by some 70 masters such as Paik Nam-jun, Yoon Hyung-geun, Park Seo-bo, and Kim Jae-hak, starting at 35 percent of the paintings' market price.
Gallery Hyundai in Sagan-dong (Tel. 02-734-6111∼3) will hold the "Exhibition of Lee Wal-jong" from March 3 to March 20. The paintings are full of spring. Flowers such as maehwa (ume flower), camellia, and narcissus, deer, TV, and golf clubs together fill the canvases in Lee's paintings with flowery colors and lines full of completion and perfection.
Doh Yoon-hee's Individual Exhibition and Kim Ji-ha's "Falling Flowers" Draw Attention
The Cais Gallery in Cheongdam-dong, Seoul will hold Doh Yoon-hee's exhibition titled "Being" from March 4 to April 9. Doh has participated in numerous international art festivals including those held in the U.S. and in Europe, but has refrained from not only art festivals but also individual exhibitions since 2001, focusing on new paintings. Doh first drew in pencil and then painted over the initial drawing with varnish over and over again, creating a much brighter and more energetic paintings compared to her past works.
Meanwhile, poet Kim Ji-ha is holding his exhibition titled "Falling Flowers, Blooming Heart" at Hakgoje Gallery (Tel. 02-739-4937∼8) in Kwan-Hun Dong, Seoul until March 13. This exhibition holds 60 pieces of Kim's paintings of dharma, maehwa, and orchids that Kim has painted over the past 25 years. One dharma painting called "Spring Breeze Shall Bring Maehwa Dances" vividly shows happy moments of spring when the maehwa is in full bloom.
The Mokkeumto Gallery (02-764-0700) in Dongsung-dong, Seoul will hold the "Spring Exhibition" until March 27, displaying paintings by seven painters that send messages of spring including those of Kang Jung-il and Shin Ji-won.
Mun-Myung Huh angelhuh@donga.com