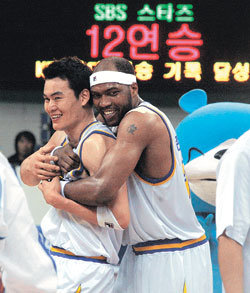 SBS' Yang Hee-seung charged up the court to score a lay up. Twenty four point four seconds remained on the clock. The scoreboard read 91-83, with SBS leading KTF by eight points.
Heated cries of "12 straight wins!" echoed among the 6,770 home fans thronging the stands at Anyang Stadium. SBS was re-writing the history on winning streaks in Korean pro basketball.
Driven by the "Dontae Jones effect," the SBS Stars are on an unstoppable run. On March 1, they won 12 consecutive games by defeating the KTF Magicwings by 93-88, the longest winning streak in Korean pro basketball history. The previous record was 11 wins, set by the Hyundai Gullivers (now KCC Egis) in the 1997~1998 season and matched by the SK Knights in the 2001~2002 season.
SBS coach Kim Dong-kwang stated, "The honor is all due to the players who made it happen," and blissfully added, "I'm overjoyed to have our name recorded in the pages of history."
SBS' Dontae Jones also showed off his prodigious skill this day by scoring 29 points and grabbing 20 rebounds. Kim Sung-chul (22 points) set the tone early on by putting up 19 points in the first half alone. Yang Hee-seung, who celebrated his birthday on the same day, recorded 13 points and eight assists.
The game drew the largest number of spectators since Anyang Stadium opened in 2000. SBS seemed to be headed for an easy win in the early part of the second half with a 26-point lead. But in the third quarter, KTF hotly pursued by scoring five consecutive three-pointers, and by the middle of the fourth, the race became as close as 75-73. SBS ended the crisis with Kim Sung-chul's three-point shot and Lee Jung-seok's swift attack. KTF lost an asset they could ill afford to spare when Gabe Muoneke got booted from the game on five fouls three minutes and two seconds before the game ended.
The TG Xers lost to LG at Changwon Indoor Stadium 80-92, but secured its position as champions of this year's regular season regardless of the outcome of the remaining games thanks to the loss of the second-place team, KTF. This is TG's second championship title in as many years.
Xers coach Jeon Chang-jin stated, "Winning the regular league is tougher than I thought. I'd like to thank my players, who worked hard all year." He expressed his strong dedication to victory by saying, "I'll postpone the celebration until we've won the title in the final game."
Won-Hong Lee Jong-Seok Kim bluesky@donga.com kjs0123@donga.com