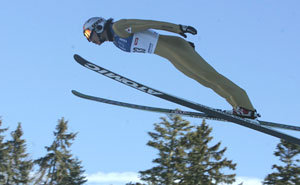 "Winter festival of the world's university students," the 22nd Winter Universiade opened on January 13 in Innsbruck, Austria.
More than 2,000 players from 53 countries are attending this year's Universiade, the largest number in the history of the game, and competing for 69 gold medals in 11 events over 11 days.
At the splendid opening ceremony held on the day at the Olympiad World soccer stadium in Innsbruck, some 20,000 spectators enjoyed spectacular and various programs. A yodel song concert and shadow show were held while blue lights illuminated the screen shaped like a snow-covered mountain, and then six dogs conveyed the Universiade flag.
The Korean national team entered the stadium as 27th among 53 countries with Lee Gwon-jae (Yonsei University) of the ice hockey team as the flag bearer. The country, which ranked fifth with five gold, three silver, and four bronze medals in Tarvisio, Italy two years ago, is aiming for seven gold medals in 10 events with 124 players in Innsbruck. The best record for Korea was second with eight gold, four silver, and three bronze medals in the 2001 Winter Universiade in Zacopane, Poland.
The country expects to win medals in short track and ski jump in which national team ace players Ahn Hyun-su and Choi Eun-gyeong will participate (both attend Korea National Sports University). In particular, the ski jump team accomplished a great feat of two gold and one silver medals (first place in K-90 Individual Event and Team Competition and second place in K-120 Individual Event) two years ago, despite lack of facilities and support that forced them to participate in overseas training all year round. The team is preparing for a second miracle in this year's game. The strongest competitor is the concurrent home team and the world's No.1 team, Austria.
The Korean national team started competition on the day with Chi Myeong-gon in snowboard parallel giant slalom and also participated in ski jump K-90 individual. Gang Chil-gu, who is aiming for a second consecutive victory in the Individual Event, fell while training on January 12, but only received a simple bruise.
Sang-Soo Kim ssoo@donga.com