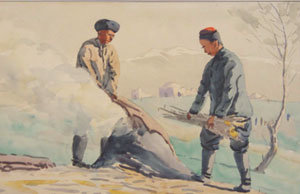 February-
The National Museum of Art, Deoksugung, is going to exhibit sculptor Kim Jong-yeong's, (1915-1982) works from February 24 to May 15, commemorating his 90th birthday anniversary. Kim was a pioneer of Korean abstract sculpture and left works characterizing naturalism. This exhibition will be a good chance to observe the formation process of his abstract sculptures. The Ilmin Museum of Art will attempt to intersect time and space of three East Asian countries of Korea, China, and Japan as a medium of wood-block prints from three different nations from February 18 to April 3.
March-
The Rodin Gallery will hold an exhibition of Korean-American artist Byron Kim, who has shown continuous interest in racial issues, from March 11 to May 8. This exhibition was organized by the Berkeley Art Museum and is visiting Seoul. At the Hangaram Design Museum at Seoul Arts Center, you can also see a noticeable exhibition, "The British Museum in Seoul – World Civilizations of Ten Thousand Years," from March 29 to July 18.
April-
At the National Museum of Art, Deoksugung, you can appreciate Oh Jiho's works at an exhibition commemorating the artist's 100th birthday anniversary this year from April 30 to July 10. Master painter Oh was the first Korean traditional painter who accepted the impressionist techniques of the West. You can meet his works and his disciples' works at the exhibition.
The Gana Art Gallery will exhibit Lee Cheol-soo's woodcut prints at the Insa-dong gallery, and sculptor Mun Shin's works commemorating the 10th anniversary of his death at the Pyeongchang-dong gallery. Mun Shin was highly applauded by French artists as the master of symmetry in France. He returned to his home in 1881, and passed away in 1995.
The Kukje Gallery is preparing to invite famous feminist artist Loius Burjou, who is famous for her needlepoint and works using clothes.
May-
The National Museum of Contemporary Art, Gwacheon, is going to intorduce Lee Jong-gu's works at an exhibition titled, "A Farmer's Son, the Artist of the Earth," as Lee was chosen as this year's representative artist. Leeum, the Samsung Art Museum, is preparing to open an exhibition, "Lee Jung-seop, the Rediscovery of Drawings," from May 13 to August 28.
June-
The exhibition, "Paintings from Barbizon," from June 3 to August 30 at the Hangarm Design Museum at the Seoul Arts Center is expected to bring visitors to the museum. Barbizon, where modern landscape painters lived together, is a small town located at the mouth of the Fontainebleau Mt. in the suburbs of Paris. Visitors will have a chance to appreciate the works of Jean-François Millet, Théodore Rousseau, and Camille Corot, the so-called brilliant stars of Barbizon.
The Gana Art Gallery and the Kukje Gallery will open individual exhibitions of Han Ae-gyu, an enthusiastic terracotta artist, and deceased female painter Choi Wook-kyung's works.
July-
The Hangarm Design Museum at the Seoul Arts center is also going to open a robot exhibition titled "From Frankenstein to Asimo" from July 22 to August 21.
Commemorating the 60th anniversary of Independence from Japanese colonial rule, the National Museum of Contemporary Art, Gwacheon, will hold an exhibition called, "Korean Paintings, 100 Years," which will illuminate the 100 year-long history of Korean painting from 1900 to today from July 5 to October 23.
August-
In commemoration of national independence, the National Museum of Art, Deoksugung, will also hold a special exhibition of Han Nak-yeon's (1898-1947) works from August 6 to October 16. He was born in 1898 in Jilin City, Lung Cheong, China, and completed Shanghai Art School, majoring western painting in 1921. As a pioneer in art education, he founded the Peng Tan Art School. Although he was Korean, he actively participated in the mainstream art world of China by joining in the movement of reproduction of the Dunhuang mural.
This year's representative artist exhibition of Seo Se-ok will also be held in the museum from August 18 to October 23.
September-
The Gana Art Gallery will hold a retrospective exhibition of Park Dae-sung, who is going to have his 61th birthday anniversary, and the Ilmin Gallery will show the works of Oh Kyung-whan, who is newly introducing a new genre called cosmic painting. The Rodin Gallery will show western paintings of Kim Hong-joo form September 9 to October 30.
October-
The exhibition of great video artist Matthew Bani at Leeum is expected to bring many visitors to the gallery from October 14 to January 8, 2006. Don't miss Ham Kyung-ah's works at the Ilmin Art Gallery and Jeon Kwang-young's at the Kukje Gallery.
November-
"Cubism in Asia" at the National Museum of Art, Deoksugung, (November 2 to January 22, 2006) will introduce 130 works of cubist artists from 10 Asian countries that actively accept cubist art principles from Europe and the U.S. This exhibition has been organized in cooperation with the Tokyo National Museum of Modern Art and the Singapore National Museum, and is scheduled to visit Seoul late this year. Also, there will be an exhibition on modern fashion at the Rodin Gallery from November 25 to January 29, 2006.
Mun-Myung Huh angelhuh@donga.com