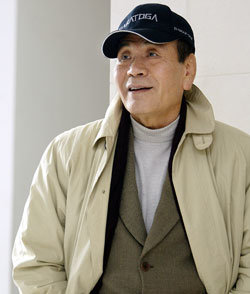 "Excuse me. Can you just watch for one? Yes? You don't want to see? Eh. Just watch it for one."
Director and main actor Oh Ji-myeong (65, picture) gives an introduction like above in the trailer of his movie, "Quit Dinking Around" that releases on December 3. With his hair styled like the famous soccer star "Ronaldo," with all the hair shaved except the middle part and his trademark stuttering, a chuckling noise spread through the audience.
After 45 years of acting, he has just debuted as film director at the age of 65. I met him at a café on Sejongno in Seoul for an interview.
The movie is an action drama of three aged gangsters' life stories. Gaetok (Oh Ji-myeong) and Byeokdol (Choi Bul-am) served 15 years in prison because of their friend Dongpal (Kim Hak-chul)'s betrayal, and another friend, Sambok (Roh Joo-hyun), took care of them while they were in prison. The three dream of taking vengeance, but as soon as Dongpal gets imprisoned, they are fated to bodyguard his daughter Eunji (Lim Yoo-jin).
Q: Why was the movie titled "Quit Dinking Around"?
A: "I gave the three screenwriters "homework" and they made 60 titles. I made a selection among them. Coincidently, a politician from the Uri Party made a comment that people over 60 should not vote, and another politician said that the brain cells of young people and old people are different. I was fuming about these comments and decided on the title. In short, it's saying "do not disrespect old people and stop kidding around."
Q: Why did you cast Choi Bul-am and Roh Joo-hyun?
A: "Bul-am is my old friend who I befriended when I was really young. He's often portrayed as a father figure in Korea or the national actor and other good stuff. I wanted to turn that image over. And that's how it's funny! Joo-hyun is a few years younger than me, and he has good looks, unlike Bul-am or me. We have wooly-bully faces, so I had him so that viewers can be more comfortable watching the movie.
Q: Why did you debut as director so late?
A: "I first wanted to take the production part only, but then director Kang Woo-suk and president Lee Choon-yon of "Cine 2000," after reading the scenario, said that they liked the story but said any movie that was produced by an actor would not be a hit. In the middle of it, the company that invested in this movie asked me to direct it myself since I used to write scenarios and have produced many sitcoms before. They said they would give up the movie if I did not take over the directing, so I had no other choice."
Q; There is a scene in a public bath, and I saw muscles on your abdomen. You should be the bodybuilder role model among people in their 60s.
A: "I used to exercise a lot when I was younger. This is only the residue of what I used to have before."
To the younger generation, he is known as the "Godfather of Sitcoms" or some kind of comedian for his comic roles in sitcoms like "People at Dr. Oh,"; "Soonpoong Women's Hospital," and others. However, he's a serious actor in 50 plays and an action actor in 150 movies of the 1960s and 1970s.
Q: How did you get started with sitcoms?
A: "In 1992, the deputy director of SBS, Lee Nam-ki (current director of production of SBS), called me asking why I wasn't doing any sitcoms. He gave me a scenario, but it was not funny. So I asked Kim Woon-kyung, a writer who was very popular those days, to write two episodes copying 'The Cosby Show.' He said that he would not copy anything as a writer, but I insisted until the end, so he finally gave in and handed me something like that. This sitcom then got popular after settling in.
Q: Unlike in your sitcoms, you rarely laugh. What do you think laughter is?
A: "Living itself is a comedy. So I just have to show how I live since it's a comedy in and of itself. I felt honored to be called a comedian, not bothered by it."
Q: How do you feel now that you've become a film director?
A: "I majored in economics in college, and the best job you got with that was at a bank and the monthly pay was about 8,000. I thought being an actor was better than becoming a bank clerk. I think I made the right choice, even when I think about it now. But I learned much more about life while I was directing the last four or five months than I learned during my last four decades acting. I had a second view of the job as a director and also of the actor's job. Will I get another chance to direct? (Laughter)"
For audiences over 15.
Gab-Sik Kim dunanworld@donga.com