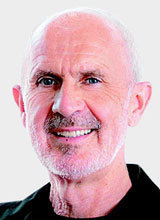 It was confirmed on Sunday that Jim Rowan, the CEO of Volvo Cars, who announced transformation into an electric car brand, will visit South Korea the following week. It is garnering attention if he will discuss cooperation with South Korean electric car battery companies.
The CEO will arrive in South Korea on Sunday afternoon and meet with official dealers of Volvo Cars on the next day. Once he finishes his official schedule in South Korea, he will head to Japan on March 14. Rowan worked as the CEO of Dyson, a U.K.-based home appliance company, from 2017 to 2020 and led the 'Dyson electric car project.'
He is leading global cooperation at Volvo Cars to achieve the company's goal of transitioning into an electric car brand by 2030. Electric cars accounted for 11 percent of the company's sales last year. The automotive company announced a goal that pure electric cars will account for 50 percent of its car models by 2025. Volvo Cars launched the XC40 Recharge in October 2019 and the C40 Recharge in March 2021 and plan to begin mass production of EX90, a large electric SUV, in the second half of this year.
While the C40 Recharge currently uses LG Energy Solution's batteries, further cooperation with battery companies is required for aggressive line-up expansion. Meetings between the CEO and battery companies have not been confirmed yet, but it was reported that his schedule could be adjusted before his visit to South Korea. "This is the CEO's first visit to South Korea, and he will inspect operation sites and markets in East Asia," said a source in the automotive industry. "I understand that he is adding more business meetings."
Jae-Hyeng Kim monami@donga.com