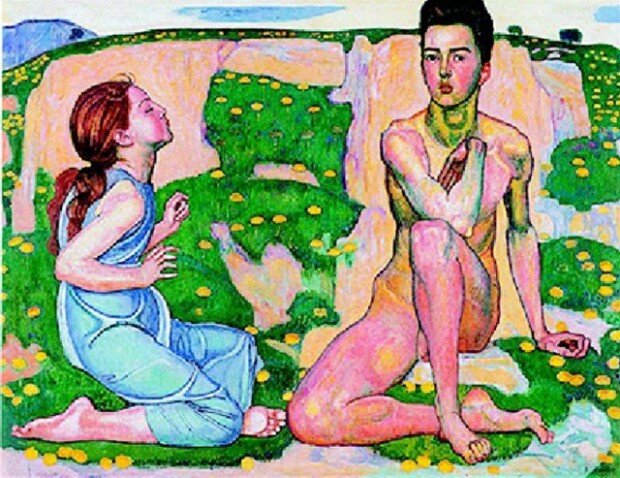 Two young people are sitting together in a flowering field with yellow flowers. The naked boy is staring at the front with one of his legs and arms bent while the girl in a blue dress is blowing air with her mouth toward the boy while kneeling down. It is a beautiful yet strange scene. Who are they, and what are they doing?
Ferdinand Hodler is a well-known Symbolist painter of Switzerland. Rather than realistically depicting subjects, he tried to express hidden symbols behind their appearances. He focused on fundamental topics of humans, such as love, death, hope, and faith, since the 1890s. This painting titled "Spring" deals with the topic of love. The yellow flowers in the field and the title symbolize growing love between the young couple. However, their gazes and postures are read completely differently. The two cannot communicate at all, even though they are in the same place. The girl is trying hard to blow air toward him as if she is trying to deliver the warmth of spring. She is very proactive. Meanwhile, the boy is taking a rather defensive posture as if he is either indifferent or shy, even though the two look like they like each other based on their blushed faces. They look like youths who are clumsy with how to express love.
Hodler's niece and his son, Hector, were the models of the painting. His son was 14 at the time. When Hodler painted this piece, he was divorced from his second wife after splitting up with Hector's mother. It was the painter himself who was poor at love, not the model in the painting.
Did Hector not like himself in the painting with poor communication skills? He began to learn Esperanto two years later and founded the Universal Esperanto Association in 1908. Esperanto, which means 'one who hopes,' is a constructed language for worldwide communication developed by Polish physician L. L. Zamenhof in 1887. Unlike his father, Hector must have had hopes of communicating with his loved ones and people around the world – with a language warm like spring.