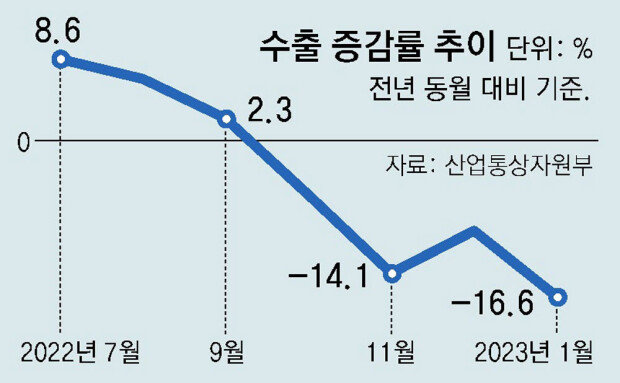 The Korean government officially admitted, for the first time since the spread of COVID-19, that the country's economy is slowing down. The first such acknowledgement came as exports, core support of the nation's economy, are falling while a decline in consumption became more visible.
The Korean Ministry of Economy and Finance analyzed that the economy is slowing down as inflation remains high in the February edition of its "Current Economic Trends," (a.k.a Green Book) published on February 17. It is the first time since 2020 when the pandemic spread in earnest that an official government bulletin on economy such as Green Book mentioned economic "slowdown."
Since it first indicated concerns for possible economic slowdown last June, the government has been releasing similar economic assessment reports for the past seven months. Just last month, however, the Green Book mentioned "rising" concerns over economic slowdown, raising the level of wariness and fear.
The February assessment released by the government further cements the analysis that the country has actually entered the phase of economic downturn. Already in the fourth quarter of 2022, Korea posted a negative economic growth by 0.4%, the first after two and a half years since the second quarter of 2020 which saw -3.0% growth. The nation's trade deficit reached a record high (12.65 billion U.S. dollars) in January 2023 due to declining exports. On top of that, consumer prices rose by 5.2% year on year in January, increasing the likelihood of sluggish domestic consumption.
The foreign exchange rate breached 1,300 Korean won per U.S. dollar after just two months as concerns were spreading that highly intensive money tightening may continue by the U.S. Federal Reserve Board.
Hee-Chang Park ramblas@donga.com · Min-Woo Park minwoo@donga.com