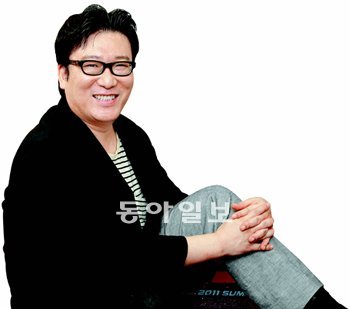 The Seoul district of Chungmuro, which is dubbed Korea`s Hollywood, has had a moviemaker showcase two blockbusters budgeted at 10 billion won (9.2 million U.S. dollars) each two weeks apart in an unprecedented move.
To save time, director Yun Je-gyun a Dong-A Ilbo reporter to hold an interview in a car on his way from Seoul`s Yeouido district to his office in the city`s Gangnam area.
With the 2009 blockbuster "Haeundae," Yun joined the ranks of directors who have attracted more than 10 million viewers for one film. The reporter poked at him by saying the director had a trace of "ssammai," or Japanese movie jargon referring to a third-rate movie, in "My Boss, My Hero (2001)," and "Sex Is Zero (2002)," two films that were full of dirty jokes.
"I don't make ssammai movies any more. Since I got a kid, I wanted to make a movie that I could be proud of myself before my child. The two movies this time are about high tech, not jokes," he said.
"Quick" starring Lee Min-ki and Kang Ye-won is about the desperate struggle of a delivery man who happens to carry an explosive. Yun said the speed of the chase is the jewel in the crown.
He used a remote-controlled car for the first time in Korea and sped it up to 150 kilometers (93 miles) per hour in the rollover and crash scenes. He said no car had exceeded 60 kilometers (37 miles) per hour in Korean movies before he did.
Yun said, "I told director Cho Beom-gu that we shouldn`t film this in the first place if we can't do better than (the Hollywood movies) 'Speed' or 'Taxi.' We`ll be blamed forever if we can't do better. More than 1,000 of 3,800 cuts were made from computer graphics. No Korean movie has as many CGIs as this. Your eyes will be pleased."
"Sector 7" starring Ha Ji-won, Ahn Sung-ki and Oh Ji-ho is Korea`s first blockbuster movie in 3-D. The science-fiction film is about a battle between the crew of an oil drilling vessel and a mysterious monster.
Yun said, "I filmed it like 'Avatar.' I filmed actors' motions on movie sets with a green background for more than 80 percent of the movie and then combined the tapes with the 3-D background and the monster. It was more cost effective to do so than filming all portions with 3-D cameras."
The director is preparing for another big project aside from "Quick" and "Section 7." "I`m producing 'Mister K,' an action movie budgeted at 10 billion won, and will start filming this winter. Director Lee Myung-se will take the megaphone. I`ll also write the script for and direct 'Temple Stay.' The script is in the final stage."
"Temple Stay," an adventure movie in the tradition of "Indiana Jones," will be co-produced by 1492 Pictures, the producer of the Harry Potter series.
"My goal is to make well-made commercial movies like Hollywood blockbusters. I know who I am. There are many people who make better art films than I do. But I think I am talented at making commercial movies," Yun said.
The director, who has produced and directed 10 movies, has been pretty successful so far. "I gave up my ego. I think I`m the least arrogant director and producer in Chungmuro. While working at a company, I learned how to behave before my boss and subordinates. One of the most important things in an organization is to give up your ego. When investors don`t invest, I kneel before them. When I can't cast an actor, I desperately beg him," he said.
Though giving up his ego, Yun did not hide his ambition as a producer. "I`ll foster JK Film like a Hollywood major filmmaker such as 20th Century Fox or Paramount Pictures. I think this will be possible if I can give the impression that JK Film's movies are always fun."
His voice suddenly grew serious after a pleasant talk.
bluedot@donga.com