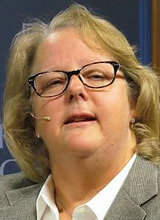 A senior official at the U.S. Chamber of Commerce projected that while the Donald Trump administration is pushing for protectionist trade policy, it will not be long before Washington officially raises an issue with South Korea's foreign exchange "manipulation."
Tami Overby, senior vice president for Asia at the U.S. Chamber of Commerce, told the Dong-A Ilbo on Tuesday (local time) that Trump's trade team will intensively take issue with the U.S. trade deficit with South Korea and what it views as Seoul's "currency manipulation" before deciding whether to renegotiate the South Korea-U.S. free trade agreement. While Trump has mainly targeted China on the exchange rate issue, he could expand the target to South Korea, she said.
In October 2016, the then Obama administration designated six countries, including South Korea, Japan and Germany, on a currency watch list, advising Seoul to enhance the transparency in the government's intervention in the foreign exchange market.
Overby said that the Trump administration also views that some countries other than China have foreign exchange issues, predicting that South Korea and Japan will likely be the next targets of Trump, who has declared secession from the Trans-Pacific Partnership and the North American Free Trade Agreement.
The Wall Street Journal reported that Trump will likely attempt to renegotiate the U.S. free trade agreement with South Korea, depending on the results of Washington's NAFTA renegotiation with Canada and Mexico and that a new NAFTA could set the standard for future trade renegotiations.
Seung-Heon Lee ddr@donga.com