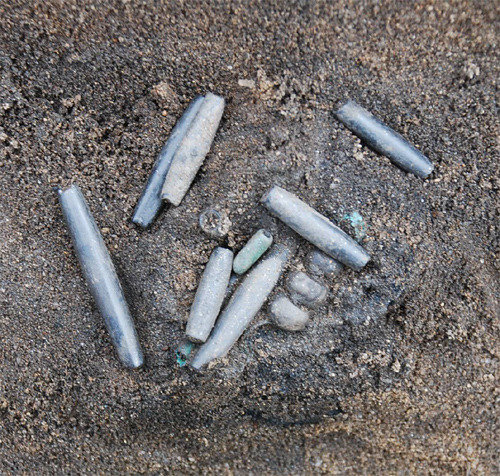 Archaeologists have discovered the Korean Peninsula's oldest Bronze Age site in Jeongseon, Gangwon Province.
They estimate that the bronze ware excavated at the site date back to the 13th century B.C., the early Bronze Age, and are as old as that found in Sinam-ri, North Pyongan Province in North Korea. The previously oldest bronze ware ever found in middle and southern regions of the peninsula was the lute-shaped bronze daggers dating back to the 10th-9th centuries B.C., which were found in Yeosu and Jeonju.
The latest findings push the first use of bronze ware in what is now South Korea back by about 300 years. Some archaeologists say that the term "Mumun (patternless) pottery period," which used to refer to the early Bronze Age because of the rarity of early Bronze Age relics, could be scrapped.
"We've confirmed a total of 109 relics from the Bronze Age, New Stone Age and the Iron Age from its second excavation research launched in March," the Gangwon Research Institute of Cultural Properties said Wednesday. During the first round of research in 2006 and 2007, the institute discovered 46 items from the New Stone Age and the Bronze Age such as dwelling sites and graves.
What attracts attention the most is the bronze ornaments found in a Bronze Age dwelling site. Excavated together with pottery with patterned motifs, the ornaments date back to the 13th-11th centuries B.C. based on the radiocarbon dating method. Relics from the early Bronze Age had been found across South Korea, but no bronze ware. "The latest finding is an epoch-making discovery that could turn the history of Korea's Bronze Age research upside down," said Choi Jong-mo, head of research at the Gangwon Research Institute of Cultural Properties.
The four bronze ornaments resemble thin bronze rings and jade tubes. Those resembling jade tubes were the first to be discovered on the Korean Peninsula. No such items from the same period have been found in China, either. "The ornaments are significantly meaningful in that unique bronze ornaments were found in Jeongseon, far from China," said Lee Kun-moo, former head of the Cultural Heritage Administration. "They should be seen as locally manufactured ornaments, rather than being of Chinese origin."
Sang-Un Kim sukim@donga.com