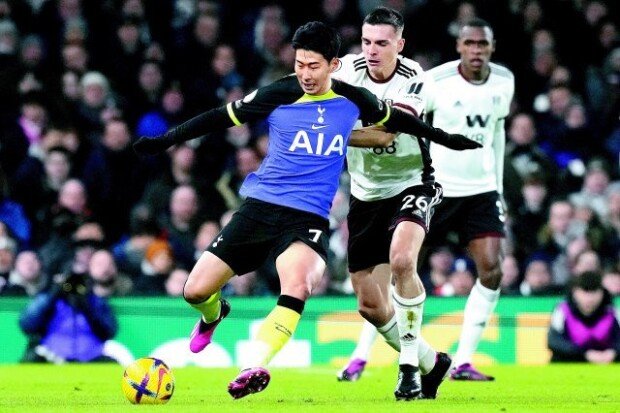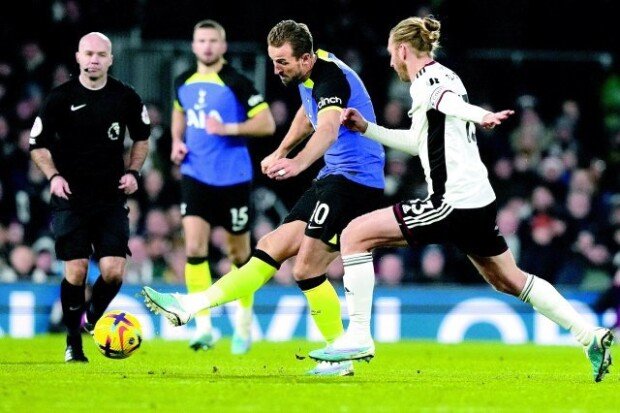 Son Heung-min, the South Korean winger of Tottenham Hotspur, earned his first attack points in four appearances, preventing his team from losing three games in a row.
Son joined the starting squad in an away match against Fulham on Tuesday in London for the 2022-2023 season in the English Premier League. In the 46th minute of the first half, the Korean winger dribbled his way towards the penalty box before passing it to Harry Kane, who found an opener with a stunning pivot shot.
It was Son's first attack point in 19 days since he scored a goal against Crystal Palace on Jan. 5. This season, the Korean has chalked up a total of seven attack points (four goals, three assists). Adding the two goals he netted in the UEFA Champions League, Son has made six goals and three assists this season.
Son and Kane have rewritten their record to score 44 goals so far because they scored the most goals as an EPL duo. They are now eight goals apart from the runners-up, Frank Lampard and Didie Drogba who scored a total 36 goals together. The last time Son and Kane jointly found the net was 12 matches earlier when Tottenham defeated Brighton 1-0 on Oct. 9 last year. So far, Son and Kane have found 22 goals and 22 assists.
Having scored his 16th goal this season, Kane is jointly ranked first as the most prolific scorer in the club's history. Since he joined the Hotspur in 2010, Kane has scored 266 goals in 412 games, rubbing shoulders with Jimmy Greaves, who netted 266 goals between 1961 and 1970 as a Hotspur legend. Kane finds himself only a single goal away from joining the EPL 200-goal club, the third to do so, following Alan Shearer (260) and Wayne Rooney (208). "Very proud to level Jimmy Greaves' record just looking for one more to break it," Kane said on Twitter after the game. Recording zero shots on target, Son was replaced with Richarlison in the 31st minute of the second half.
Defeating Fulham 1-0, Hotspur remained in fifth with 11-3-7 (36 points), widening the gap with Brighton and Fulham (31 points). Tottenham is closely chasing Newcastle United and Manchester United (third and fourth with 39 points), who have yet to play one more game in the round. On Sunday, Tottenham is playing against Preston North End F.C. for the round of 32 in the FA Cup. "It would be more important if you lift a trophy. If we want to be the dreamers, we have to know that the FA Cup is a tough game. If I see this unity we have time to have another good season," head coach Antonio Conte said after the game.
Bae-Jung Kim wanted@donga.com