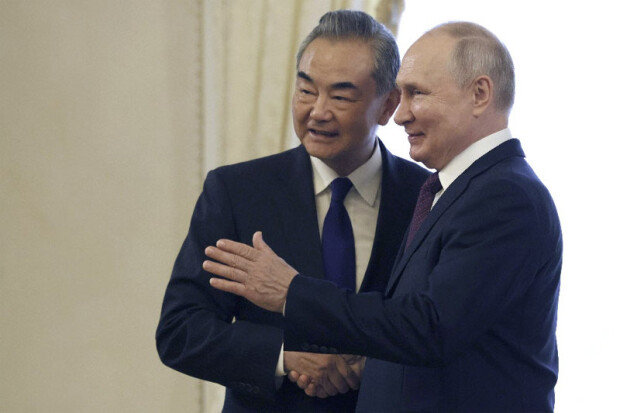 Russian President Vladimir Putin has expressed his strong support for the Belt and Road Initiative, a priority project of Chinese President Xi Jinping. The Belt and Road is China's project for economic and territorial expansion.
As reported by the Chinese Ministry of Foreign Affairs, President Putin held a meeting with Wang Yi, Director of the Chinese Communist Party Central Committee Foreign Affairs Commission Office and Minister of Foreign Affairs, in Saint Petersburg, Russia, on Thursday. "Russia highly acclaims and actively supports the BRI, and it opposes any distortions and smearing that target the initiative," Putin said at the meeting. Additionally, Putin accepted China's invitation to attend a forum in Beijing next month commemorating the 10th anniversary of the Belt and Road Initiative.
Russia has overcome the impact of unilateral sanctions imposed by the U.S.-led West, and the Russian economy has resumed growth," Putin said. "We look forward to further strengthening cooperation with China." "The two sides should strengthen multilateral strategic collaboration, safeguard the legitimate rights and interests of both countries and work towards making the international order more just and reasonable," Wang responded.
In particular, the Chinese foreign minister aimed at the U.S., stating, "Hegemony does not win people's hearts. China and Russia, as permanent members of the UN Security Council, share a crucial responsibility in advancing global development and progress." The minister's remarks come as a hint amid calls for reform of the 'non-functioning Security Council,' which has faced criticism for its failure to respond to allegations of North Korea-Russia arms deals through exercising its veto power.
Ki-Yong Kim kky@donga.com