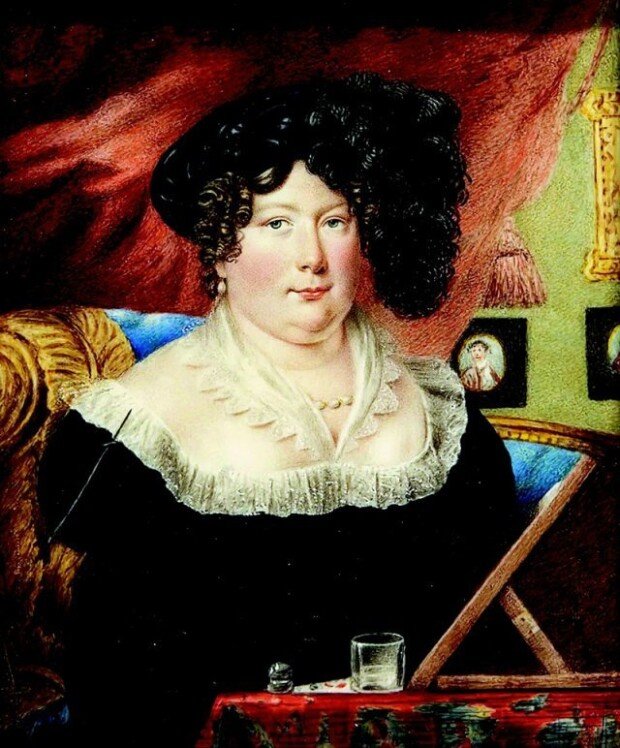 Though not officially recorded in art history, Sarah Biffin left an artistic mark by painting many self-portraits. In one of the many works, she stares at us wearing a black outfit with painting tools scattered on the table. She must be drawing a miniature portrait seemingly hanging on the wall. What captures attention is the artist with no arms. Only a tiny brush is fixated on her right shoulder. This intrigues curiosity.
Biffin was born to a farm family in Somerset, Britain, with no arms and legs. Around the time she was 13 years old, her parents apprenticed her to a man named Dukes who opened fairs and circus shows. They must have thought it would be the only way for their handicapped daughter to support herself. As she did not want to burden her poor parents, she learned how to sew, write and draw using her mouth on her own.
She showed audiences how to sew, write and draw miniature drawings with her mouth and shoulders. Her drawings sold quite well, but only a small portion of the money was paid to the artist. Fortunately, a wealthy patron highly appreciated her talent, enabling her to end her wandering life for 16 years and settle down. Afterwards, she could learn from a professional artist who was educated at the Royal College of Art.
At a surprising pace, she came to stand out. She was awarded a medal in 1821 by the Society of Arts and commissioned by Buckingham Palace to paint miniature portraits, propelling her to fame overnight. This self-portrait was drawn at the peak of her career when she was in her 30s. It highlights a legitimate artist immersed in her art world filled with painting tools, not a mere spectacle in the circus show. However, her good days only fleeted. In 1827, her patron died, and her manager wasted most of her money, bringing her back into poverty. She still had to fight against discrimination against women with physical difficulties. Briefly, after she died in 1850, the artist and her works were forgotten.
For the first time in 172 years since she died, a private exhibition was held last November in London to take a refreshing look at Biffin's artistic achievements. Anything that holds value is bound to be found someday. Great men happen to be rediscovered in a later era.