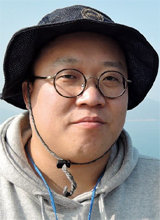 "But it was all right, everything was all right, the struggle was finished. He had won the victory over himself. He loved Big Brother."
-George Orwell, 1984
The protagonist Winston Smith stands up to the dictatorial power of Big Brother but succumbs in the end after brutal torture and brainwashing. The novel, the last of George Orwell's works, became known as a classic for revealing the essence of the power of internalizing discipline and monitoring and forcing people to succumb to power voluntarily. If we look for examples of succumbing to power in everyday life, it is easier to find voluntary obedience out of personal gain rather than forced arm-twisting. Orwell's insights reflected in the novel's last sentence are relevant today and terrifying. The author explains and precautions on the idea of double thinking, which accepts two conflicting beliefs.
I read a news article earlier this year that Changbi Publishers asked writer Jang Kang-myeong to revise his manuscript on criticizing the publisher for plagiarism. I thought it was unreasonable to ask to revise a previously released manuscript in an online bookstore. A few days ago, the publisher Silcheon released poetry by Ko Eun, who had suspended official activities a few years ago when he was accused of sexual misconduct. The publisher was severely criticized and had to retrieve the books.
I must admit that I myself had been trapped in double thinking as well. Discouraging the will to resist had been a part of my thinking. I opened my social media account to say a few words about the news, but I just ended up sharing the article link out of fear that I might work with those publishers.
I wonder where society stands today, as we are almost 74 years from 1949 when Orwell released his novel 1984. Have we advanced from contradictory thinking today, 39 years past from the year 1984 based on the dystopia that Orwell imagined?