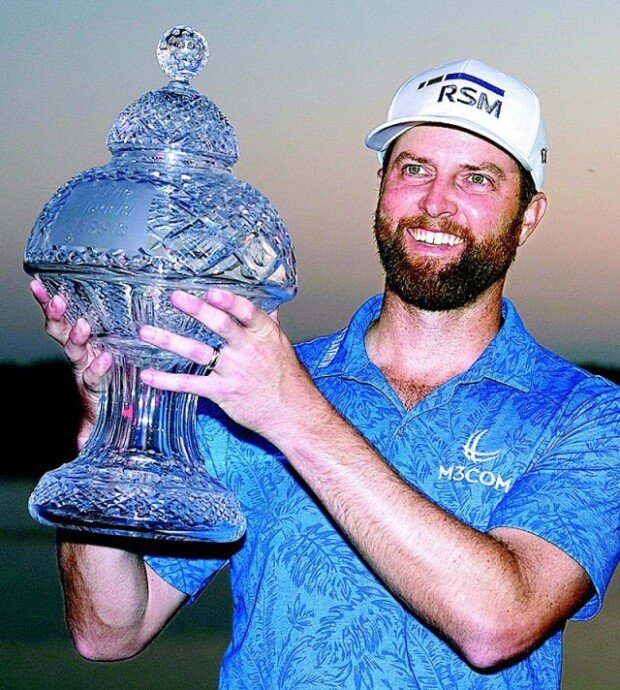 Professional golf player Chris Kirk of the U.S. won the PGA tour in seven years and nine months after overcoming alcohol abuse and depression.
Kirk had his fifth victory in nearly eight years since May 2015, achieving the highest score after the final fourth round at the PGA tour Honda Classic held on Monday at the PGA National Resort in Palm Beach Gardens, Florida.
Kirk shot a one-under 69 after four birdies and three bogeys, finishing at 14-under 266, tying with Eric Cole, who finished at 3 under and extending the game. Kirk bogeyed at the 18th hole, which extended the playoff, but birdied by shooting his third shot 40 centimeters near the final hole, winning over Cole, whose ball landed 3 meters away from the hole. "I'm so grateful for my sobriety, I'm so grateful for my family, I'm so grateful for everyone that has supported throughout the past three or four years," said Kirk.
Kirk propelled victory for the American team at the President's Cup held in Incheon, Korea, in 2015. However, he gave up golf for six months in 2019 due to alcoholism and depression. Kirk focused on rehabilitation and won the Korn Ferry Tour in 2020, taking fifth place in the PGA championship in May 2022. He took third place for two weeks at the Sony Open and American Express and showed that he was back in the game by winning the Honda Classic. He won prize money of 1.512 million dollars, secured a two-year card for the PGA, qualifying for the Players Championship and Masters.
hun@donga.com