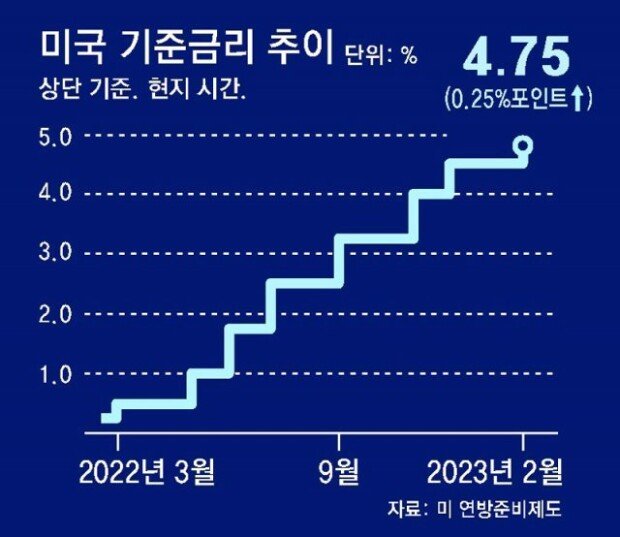 The Federal Reserve took a "baby step" of raising its benchmark interest rate by 0.25 percentage points on Wednesday. In 11 months, the speed of the interest rate hikes returned from an aggressive campaign to a normal pace. Federal Reserve Chair Jerome Powell indicated that the end of the hiking cycle is nearing by mentioning for the first time "disinflation."
Aligning with market expectations, the Fed increased the benchmark interest rate by 0.25 percentage points, taking the rate to a target range of 4.5 to 4.75 percent from the previous 4.25 to 4.5 percent. The interest rate gap with South Korea, whose interest rate stands at 3.5 percent, has widened to 1.25 percent.
"The Committee anticipates that ongoing increases in the target range will be appropriate to return inflation to 2 percent over time," Mr. Powell said in the post-meeting statement. He also said that the Fed will continue quantitative tightening whereby the Fed sells U.S. Treasury securities to reduce liquidity in markets "on a large scale." While indicating there will be "a couple of more rate hikes," Mr. Powell acknowledged that "the disinflationary process has started." In a post-statement meeting, he used the word "disinflation" 15 times.
The market rebounded with an anticipation that the end of the rate hiking cycle, which started last year, is nearing. The market responded positively, with the NASDAQ, a tech-heavy index, sharply increasing by 2 percent and the dollar index falling to the level seen in April 2022. The dollar depreciation drove down the won-dollar exchange value to 1,210 won during the day, falling below the 1,120 won range for the first time in 10 months since April 4, 2022.
The market's attention is on when the rate hikes will end. Although Mr. Powell suggested a "couple" more hikes coming, the market expects that the rate hikes will end after the Fed takes a "baby step" in March.
Hyoun-Soo Kim kimhs@donga.com