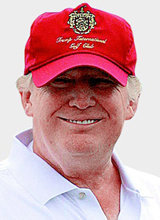 Former U.S. President Donald Trump, a "golf fanatic," declared that he won the gold medal at his own Florida club's senior golf championship. However, Palm Beach Post reported that the former president did not play in the tournament's first round.
Trump boasted that he claimed victory in the senior club championship at his Trump International Golf Club in West Palm Beach. "A great honor to have won in one of the best courses in the Country," the former president wrote on his social media platform Truth Social. "You need strength and stamina to WIN, & I have strength & stamina – most others don't. You also need strength & stamina to GOVERN[!]," he wrote in his post, in an apparent charge against President Joe Biden for his age and waning health.
However, it was revealed that President Trump was not even on the golf course in the first round in a tournament that adopted the Modified Stableford method, which takes away a point for a bogey and awards zero for a par and two for a birdie. He was attending a funeral in North Carolina of ardent Republican supporter Lynette Hardaway. Trump shot a stellar round on Thursday and made this count as his first day's score. It was reported that competitors arriving for day two of the contest on Sunday morning were surprised to see Trump's name at the top of the leaderboard with a five-point lead over the overnight leader.
Rick Reilly, a famous golf journalist, introduced various incidences where Trump had cheated at golf in his book "Commander in Cheat," published in 2019. "Once, Trump said he won in New Jersey. In fact, he was in Philadelphia," Reilly wrote.
Heon-Jae Lee uni@donga.com