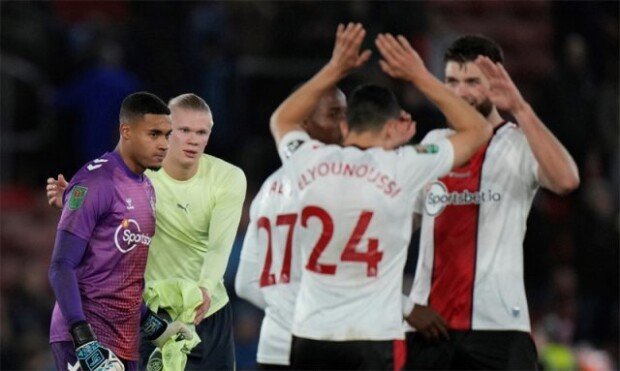 Manchester City FC failed in the English Football League Cup quarterfinal round without any shot on target registered.
Man City lost to Southampton by zero to two in the quarterfinal match held on Wednesday for the 2022-2023 Carabao Cup. The former has grabbed as many as four out of the recent five trophies of the competition, while the latter ranked the lowest (20th) in the England Premier League as of Thursday. This unexpected victory enabled the underdog to climb up to the semi-final round six years after reaching the final in the 2016-2017 season.
As Man City is scheduled to have a derby with Manchester United this Saturday, core players watched the Wednesday match from the sidelines. Erling Haaland, ranking first in terms of goals scored in the league as of now, and Kevin De Bruyne, currently with the most assists in the league, were not included on the startup list. While Man City struggled to make things work on the offense from the beginning of the match, the opponent scored two goals in the first half. De Bruyne and Haaland were substituted in the first and ninth minutes each during the second half to turn around but to no avail.
Football stat website Sofascore calculated that Man City had 72 percent possession, outdoing the competitor, but it did not register any shot on target out of five shots attempted. By contrast, Southampton made two out of four shots on target successful.
Former K-League player Mislav Oršić, who belonged to Ulsan Hyundai FC and Jeonnam Dragons, made a debut in the EPL as a 38th-minute substitute in the second half. He moved from Dinamo Zagreb in Croatia to Southampton last Saturday.
Nottingham Forest FC tied with Wolverhampton Wanderers F.C. in the quarterfinal of the Carabao Cup by one to one but won by four to three on penalties. Hwang Hee-chan started the game to play for 80 minutes but recorded no offensive points.
Bae-Jung Kim wanted@donga.com