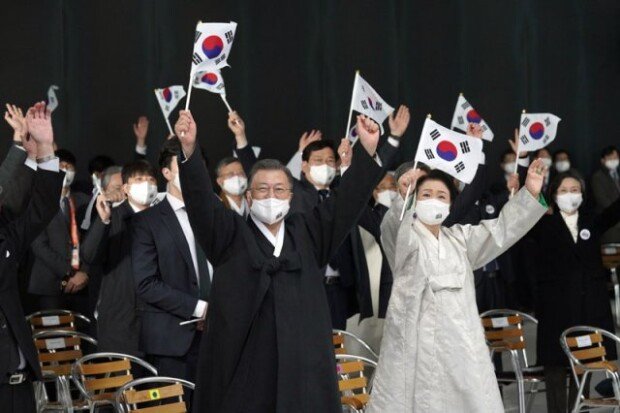 Marking the 103rd March First Independence Movement Day, South Korean President Moon Jae-in urged Japan to face history and be humble before it. He hoped that Japan would take leadership as an advanced country, expressing regret that the South Korea-Japan relations have fallen to the lowest point throughout his term and urging Japan to be responsible and reflect on the problems of the past.
In his last March 1st Independence Movement Day speech as president at the National Memorial of the Korean Provisional Government in Seoul on Tuesday, President Moon said that Japan will become a trustworthy country only when it is able to empathize with the wounds of the people of neighboring countries, which are sometimes exacerbated by a once unfortunate past. "Cooperation between Korea and Japan is the responsibility of the current generation for the sake of future generations," said President Moon, stressing that his administration will always "keep the door open for dialogue."
"Dialogue has been suspended, making our peace tenuous. Peace on the Korean Peninsula is a must for the two Koreas to become stronger, Regarding inter-Korean relations," President Moon said. "Denuclearization and permanent peace on the Korean Peninsula can be achieved if the two Koreas do not lose determination."
"State-centered nationalism, which seeks to gain hegemony by force, is also raising its head again and concerns over a new Cold War are on the rise as well," said President Moon, indirectly condemning Russia's invasion of Ukraine. "The lesson that the spirit of the March First Independence Movement gives us today is that we should have the power to lead our history without being pushed around by an international order centered on powerful countries," President Moon emphasized.
President Moon's commemorative speech did not go farther than rehashing the basic ideas. As South Korea-Japan and inter-Korean relations are not making any progress. The Moon Jae-in administration has only reaffirmed its basic stance rather than presenting a specific solution with just two months left of President Moon's term.
The National Memorial of the Korean Provisional Government, where the ceremony was held, opened its door on Tuesday for the purpose of discovering independence fighters and historical sites for independence movement.
tree624@donga.com